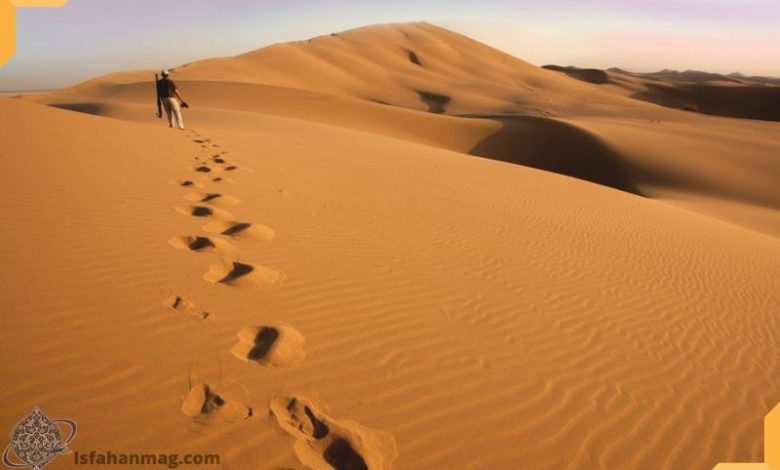 "Isfahan Deserts" has popularity among tourists.
As the Historical city of Isfahan has magnificent monuments, it has wilderness and unique nature that every day, many tourists from all over Iran travel to this city for visiting them.
One of the kinds of ecotourism that has many advocates on the cold days of the year is desert touring.
Observing the wilderness landscape of deserts, the silence of peace, sighting the stars in the sky and the landscape to the endless area of deserts causes more people to travel toward them every day.
Today we are going to desert touring; join us.
Desert regions of Isfahan province
Of the area of 7/10 million hectares of Isfahan province, about 2/3 million hectares and the equivalent to 30% of the province's surface consisted of desert lands and sandy places that it is mainly distributed in the northern and southern parts of it.
These lands include 16 wind erosion critical centers that dedicated more than 1 million and 500,000 hectares of the province's surface.
The extent of desert areas in terms of per-capita popularity:
In the world: 2/0 hectares per person
In Iran: 5/0 hectares per person
In Isfahan province: 66/0 hectares per person
Among the most important works that the activities of confronting with desertification in desert areas of the province left in place, we can refer to decreasing dust storms, preserving industrial, economic, and strategic facilities and decreasing damage to them, agricultural prosperity, air conditioning, and emission reduction.
The list of Isfahan deserts:
Maranjab Desert
Maranjab desert which is located in the north of Aran and Bidgol city is one of the most famous deserts of Isfahan province that many tourists select for desert touring.
Due to the existence of enough water and vegetation in this desert, there are many animals living in this desert-like:
wolf
jackal
Gila monster
sun- worshipper
lizard
and Scorpio.
The reason for the appellation of this desert returns to far away because digging well-finding water was very difficult to work in Isfahan deserts, for this reason, the region called "Mard Ranj Ab" that gradually changed to "Maranjab".
Of course, this story turned mouth to mouth and there is no document for that.
2- Mesr Desert
The village of that is located 45 km from Jandagh in Isfahan province, and has one of the most beautiful nature effects of Iran, meaning the Mesr desert on its side.
Golden sandy hills observing sunrise and sunset and walking on the soft sands are the attractions of this desert.
Jandagh waterfall, Selkenoon salt lake and cavity, and everglades are the spectacular places which are located near Mesr desert that you can visit on your trip to this region.
This desert has good entertainment facilities including safari, quad- bike and camel riding that bring different experiences for you.
Read more: Kavir Desert
3- Khor and Biabanak Desert
Khour and Biabanak Desert are located in the east of Isfahan and the existence of a deep well caused many palm trees to grow on the margin of villages which are located in this desert.
The nearness of this desert is one of the most spectacular deserts in Iran, there are 126 villages whose houses are made of clay and mud.
Biyaze Castle, Jandagh grand mosque, Narin castle, and Khour and Biabanak salt lake are the spectacular places which are located near this region.
4- Khara Desert
Khara desert is located in the east of Isfahan and it is about 100 km far from this city.
This pretty desert has numerous sandy hills and the height of the highest hill is 100 meters. Haloxylons, a sky full of stars, sandy hills, and the soothing silence of this desert are the reasons that cause many tourists to choose this region for desert touring.
5- Varzaneh Desert
Varzaneh desert is located near the Khara desert and within 100 km of Isfahan.
This desert has pretty and unique deserts that are less commonly seen in Iran deserts. Linear, crescent, and pyramid hills that golden- color sands formed them.
Gavkhouni pond is near Varzaneh and this issue caused the vegetation of this region to be different due to the proper humidity and numerous plants growing there.
One of these plants is shrubs, named haloxylon and calligonum comosum.
if you like offroad, camel-riding, and motor-riding, you can have happy moments in this desert and enjoy these entertainments.
6- Abouzeidabad Desert
Abouzeyd Abad desert is not so popular among other famous deserts of Isfahan and has been popular in recent years among the fans of desert trips.
Excursion in Abouzeyd Abad desert is located the near a city with this name, includes:
visiting from the historical caravansary of Abouzeyd Abad
walking on the warm sands of the desert
camel-riding, quad bike, offroad riding, and
visiting the underground city of Noush Abad.
If you like to observe the night of a desert, you can reside in Abouzeyd Abad caravansary.
7- Shargh Desert
Shargh desert is one of the other deserts of Isfahan that is famous with a lot of sandy hills.
In this region, safari and offroad tours are being executed for interested people we suggest using ecotourism tours for visiting it with the help of a professional leader.
Shargh desert is located in Hasan Abad.
8- Farahzad Desert
Farahzad Desert is the name of the oldest desert in Iran that is located near the Mesr village. The nights of this desert is being famous among the interested people in the astronomy knowledge; so bring your telescope and cameras with a powerful power bank to hunt the Milky Way galaxy.
Best Ecolodges of Isfahan
Now that you get familiar with the best deserts of Isfahan, it's time to get familiar with the best ecolodges of Isfahan so if necessary, use their services through the day and night for residence.
Matinabad Doroud Camp: 55 km of Kashan highway to Isfahan, Badoroud, Khaled Abad, Deh Abad
Setare Kavire Naein ecology: Isfahan, Naein, Choopanan village
Fanouse Kavir Ecology: Khour and Biabanak, Nasrabad village
Setare Kavir Ashtiyan Village Ecology: Anarak, Choopanan, Ashtiyan village
Needed equipment of ecotourism and camping in Isfahan deserts:
Travel tent
sleeping bag
firewood
tinder
drinking water
sunglass
entertainment devices
meals
painkiller drugs
identification card
ground cloth
light, backpack
additional cloth
sunscreen
slippers
monopod
power bank
etc.
FAQ
Which city does Maranjab desert located?
Which desert became popular in the recent years among the fans of desert trips?
What kind of equipment of ecotourism and camping is needed in Isfahan deserts؟
Travel tent, sleeping bag, firewood, tinder, etc.
Conclusion
Desert with all its beauties, also has dangers; don't travel to desert regions alone or without the presence of a guide.
It's true that these regions have warm days, but it has cold nights, so take warm clothes with yourself.
One of the other things that you should follow in the time of traveling to desert is that you should have enough water.
Don't forget that nature is a valuable trust in our hands and maintenance of it, is considered our main duty of us.
Are you ready for desert touring in Isfahan? Have you ever resided in ecolodges? Which activities did you do in the Isfahan deserts?
Share your comments with us…