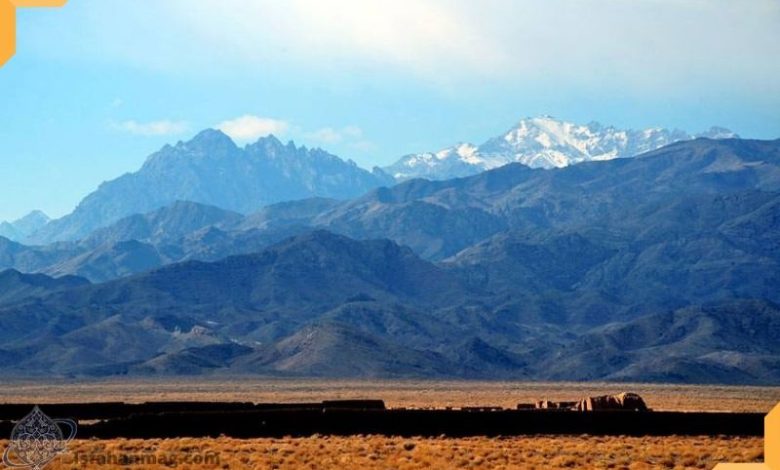 Karkas Mountain is located in Kashan, Isfahan. According to the belief of many mountaineers, Karkas Mountain is one of the best and most beautiful regions for mountaineering and in one word, it is the heaven of mountaineering in Iran. Today, let's get more information about this mountain.
Reason of nominating Karkas Mountain
There are many narrations that have been cited for the reason for nominating this mountain; some would say there are small and black-colored vultures that are flying on the foot of Karkas Mountain like a saker.
Some say that this mountain is so high that not any vultures could reach the top of it.
There is another narration that says:
that the desired vulture of one of the kings was buried there and a small room was built as a tomb for this vulture that is famous to the "vulture's tomb".
Some believe that in the past, the foot of this mountain was the hunting place of King Abbas Safavid;
one day, a vulture that helped the king in the work of hunting, prevents the king drink a water bowl that was impregnated with snake venom.
King gets angry and kills that vulture; but when he becomes aware of the reason for this work, he regrets it and builds a tomb on the foot of the mountain that it's remained visible up to now.
Where is Karkas Mountain?
Karkas Mountain is being said to be the northern half of the Zagros Mountain range in the central region of Iran.
This mountain is being started from the west part of the Natanz division in Isfahan city and continues to the north and west of Meyme part.
Hence, many people know this mountaintop as "Natanz Karkas Mountain".
In terms of geology, this mountain is the result of pyrogenic lava that has gone out via slots that exist on the surface of the earth.
The surface under the cover of this mountain is more than 300 hundreds hectares.
Near one-third of it is selected as a "no hunting zone" for hunting and also reached the national register in recent years.
Karkas Mountain is the most famous and also the highest part of this mountain range.
The highest peak in this region are:
Karkas Mountain with 3895 m height
Shahin peak with 3800 m height
Kargaz or Gorgesh with 3588 m height.
Different Climbing Paths to Karkas Mountain
There are many paths to climb to Karkas Mountain.
According to the different aims like the season that you want to climb, time of climb and other things, you can choose one of these paths.
There are 4 climbing paths:
Path no 1:
starts from Keshe village; the approximate time of climb through this path is between 5-7 hours.
Path no 2:
starts from Tame village; for climbing from this path, you need between 7 to 8 hours
Path no 3:
starts from Our village; you should notice that the needed time for reaching to the top through this path is 6 hours.
Path no 4:
starts from Bidehend village; the approximate climb time through this path is between 5 to 6 hours.
Best time to climb from Karkas Mountain
It is possible to climb from Karkas Mountain every season and day of the year; except days the weather is not good or times when avalanche fall threatens you.
In autumn, this mountain is very cold and for climbing, you need winter equipment.
In addition, you should have sufficient experience and talent in the field of mountaineering; because of the high mountain height, this region is covered with snow for half of the year.
In recent years due to the warming of the weather, snow volume being decreased in winter and three isn't any snow in the summer season.
According to many, spring and summer is the best time for to this mountain. In this season the weather is good and you can enjoy the spring weather of this heaven.
n addition, you can use its natural pretty landscapes while.
Vegetation and Animal Species in the Karkas Mountain
Vegetation: this mountain is the main source of many springs; like Kamo, Gezerto and Chorenki springs that are flowing at the foot of this mountain.
The mild climate and existence of water sources caused this mountain's foot to be a proper place for growing of different ornamental plants.
Different kinds of plants are growing there. You can observe different shrubs at different points of the domain of this mountain.
The existence of this diversity had changed this region into Iran's heaven.
Animal species: domains of this mountain have many species of animals due to the existence of different herbal species and also geographical situations.
It is a proper place for living for different mammals like deer, wolves, etc.
Different reptiles and birds are found in this region. A kind of rat lives in these mountains that is famous to Payka.
Tips related to Karkas Mountain
Different resources to access water; like different springs.
It is possible to call via mobile phones in all the areas around this mountain.
The nearest city to Karkas Mountain is Natanz city of Isfahan.
The nearest health centre to this mountain is the medical emergency centre of Natanz.
The only problem with Karkas shelter is that it doesn't have any heating system on cold days and also it's unsuitable for WC.
The most necessary equipment for mountaineering includes warm clothes, nutritional food, drinking water, a sleeping bag, etc.
FAQ
How many climbing paths that this mountain has?
4 climb path.
Which city is near to this mountain?
Natanz.
What kind of equipment should you have?
Sleeping bag, warm clothes, etc.
Conclusion
The first and the most important matter that turned this mountain into unrivalled heaven is its diverse, secure and proper paths; if you want to achieve a dreamy landscape, select "heaven of Iran" for mountaineering.
Have you ever climbed Karkas Mountain? Do you believe that the title "heaven of Iran" is appropriate for it? Share your comments with us…