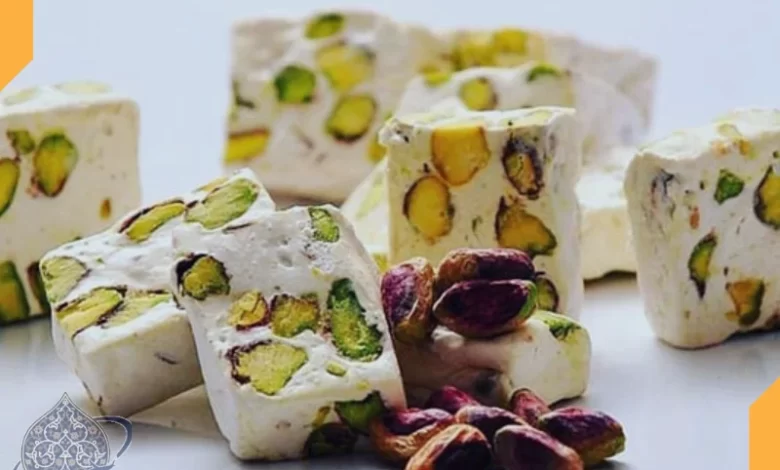 Gaz is one of the memorable souvenirs of Isfahan city. Every city in Iran has its own souvenir; among these famous souvenirs, Isfahan Gaz has a special place.
We dare say that Gaz is being famous and known around the world. In this article, we are going to learn more about it; stay tuned.
Short History of Gaz production
Production of Gaz in Iran returns to the Qajar period.
It is the main souvenir of Isfahan and also, Hamadan (nahavand), Chaharmahal va Bakhtiari, Kerman, and Yazd.
It is considered to be one of the most famous and traditional sweet snacks in Iran.
The extract of the tamarisk tree is being used for its production. In the past, this sweet was produced with raw materials that most of them were natural and also, with traditional devices and procedures.
It is one of the products that was offered to the world in the time of "Agha Mohamad Khan Qajar" as the first export product of Iran.
It was first produced in Isfahan with the combination of sugar, albumen, tamarisk, pistachio, and almond nuts in the 20s S.H. Next years, liquid glucose was brought from china to Iran and was used in the its production.
What is Isfahan Gaz?
Isfahan Gaz is that delicious sweet that is the host of our sweet moments in the visits to Nowrouz and has a long history.
Isfahan-Gaz is not only being exported to all of the cities of Iran, but also to many countries in the world.
In fact, Isfahan is being transformed into a brand in the field of production and cooking of it that people prefer to consume the products that are being produced in this city; Not the is being produced in their cities.
In fact, it is a food that Iranian and foreign tourists buy not only one package of it, but also many packages of it as souvenirs to their living place.
Classification of Gaz
We can classify the produced in two aspects:
The kind of it packaging: we have two kinds of it; Biting Gaz (chocolate Gaz) and Floury Gaz (traditional Gaz).
The percent of nuts that are being used in it: different nuts are being used in it; like pistachio, almond, hazelnut, cashew, or a combination of these.
In fact, the most popular kinds of it are pistachio and almond.
Different kinds of Isfahan Gaz
Different kinds of Isfahan Gaz are available in the market. This diversity is being planned in the way of fulfilling the needs and tastes of different people. In the following, we explain different kinds of
Isfahan Gaz:
Floury Gaz: Floury Gaz is usually in the form of a circle and they are floated in white flour.
This kind of Ga that is famous as "Isfahan traditional Gaz" is available in different packages with different percentages of pistachio.
Coin-like Gaz: It is a kind of floury Gaz. This Gaz is the size of a coin that is suitable for catering. Coin-like Gaz is usually used in special ceremonies.
Biting Gaz: It is famous for "chocolate Gaz" or "packaged Gaz".
Biting Gaz is the newest model of it that is being produced healthily and without the intervention of hand; so it has the most time of durability among different kinds of it.
Phases of Gaz preparation
For its production, sugar and water are combined in a big dish; they are boiled for 20 minutes.
At first, glucose is added and then, at the last minute of boiling, tamarisk is added to it.
This compound is being filtered to get clear and also, and the extra ingredients are being removed. This mixture is stirred in the dish to get condensed which is called "black flavor".
Egg white is beaten and spuming to add to its volume. Then, egg white is added to the dish, and a little sugar and then, some glucose is added to it to reduce the density of the sweet.
In this part called the "attention phase", the combined ingredients are put in the stirring device under a moderate temper.
We should consider that its inside material shouldn't be cooked.
If the heat doesn't decrease, doesn't, the egg white gets burn. After a while, we turn on the heat, and the stirring device mixes these ingredients at a slower speed; the water of egg white evaporates and it will be obtained.
The needed pistachio or almond is added to the mixture that depends on the kind of it you want to prepare.
For that pistachio and almond get mixed with the other ingredients in a consistent way, stirring device mixes them for 5 minutes. Then it is molded into special dishes.
After getting cool, the mixture is cut with scissor machines in different sizes, and cellophane-screw machines bind them with special covers.
It is being entered to the storeroom with proper temper and then, it is being offered to the market.
Gaz; the best replacement for chocolate
For a long time ago, Isfahan Gaz was a popular food for children. You can consider it for the school snack food of your children because it has many important benefits over other foods like chocolate; for example, it doesn't get stuck in the teeth and doesn't hurt teeth.
The second benefit of it is its nutritional value. It has different components like calories, protein, fats, etc.;
so the nutritional value of Gaz is so higher than chocolate. As you know, the most important ingredient for children's growth is protein.
The protein that is found in it, is the most important component for the growth of kids. For every 100 g Gaz, you receive 12 g protein this amount is 5 grams in chocolate.
In production, we don't use any oil, but chocolate has 31 g of fat for every 100 g which is considered to be a lot.
Another benefit of it is that it doesn't have any preservatives; in comparison with chocolate which has chemical ingredients. Totally, it is good for the health.
FAQ
What are the most popular kinds of Gaz?
Which kind of Gaz is famous for "Isfahan traditional Gaz"?
What is the most important component of Gaz for children?
Conclusion
At first, this sweet and tasty food was being produced in two models in Isfahan. For most of us, it is important to buy Gaz from Isfahan city.
Sometimes you don't have the possibility to travel to Isfahan to buy Gaz, so in this situation, you can order your Gaz online and through valid websites.
Have you ever bought Gaz online?
Could you share your comments with us?