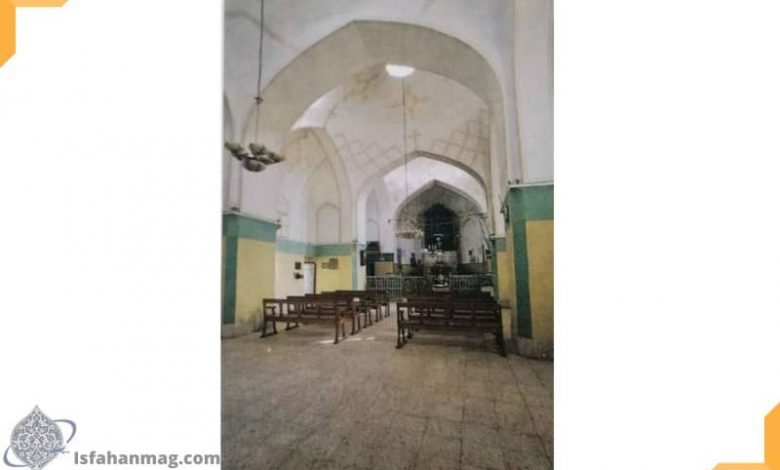 With the help and financial support of the followers, in the second decade of the seventeenth century, the church of Surp Stepanos was built in the neighborhood of Hakopian. The church was originally built outdoors. Later, a row of secondary buildings and a summer shrine dedicated to Surp Asdvazadzin (Holy Mother) was added to the first building. Unfortunately, this shrine was destroyed around 1977 in order to build a room for residential buildings.
The main entrance (1) is located on the east side in front of the main church. There are also two side entrances (2), one on the same side of the main entrance and the other in the northwest corner of the complex. The main entrance leads to a long and narrow space that runs along with the columns that adorn the north wall of the church, and from there to the main courtyard (3) on the west side, where the meeting rooms (5), the reception rooms in all directions. And there are guesthouses (6) and other service rooms and offices (7), it finds its way. The second large courtyard (4), which is surrounded by rooms and halls, limits the complex to the south.
The Church of Surp Stepanos (8) is the largest church in Julfa and has a parallel surface. In terms of architectural structure, a "domed hall" is a classic, and in its interior, four large separate columns support its multiplicative arch. The pentagonal recess consists of an altar with rooms on either side. The room on the north side has a baptismal font and leads to the outside.
There is a staircase in the west wall that led to the upper floor, which was reserved for women. The interior walls are covered with plaster, and around the lower part of the sidewalls, a beautiful decorative strip of ceramic tiles can be seen. In the 19th century, a window that absorbed light was added above and near the main entrance that opened onto the west wall. The interior is full of sacred ornaments that partially hide the damage caused by the wrong restorations.
43-42: This church has been renovated several times due to repair mistakes. Many can be seen in it. Most of the decorative works and murals have disappeared, with the exception of the lower decorative strip and a few carvings of the lower and upper parts.
The general plan of Surp Sarkis Church
Entrance
Different service rooms
Meeting rooms and offices
Yards
"Summer Shrine" in memory of St. Stephen 1704
Surp Circus Church 1659
Western view of Surp Stepanos Church 1614
General plan of Surp Stepanos Church
Main entrance
Sub-entries
The main yard
Side yard
Meeting rooms
Accommodation rooms
Offices and service rooms
Church of St. Stephen 1414
If you have an experience of this Church, please write it for us. Which part of the mosque got you more amazed?