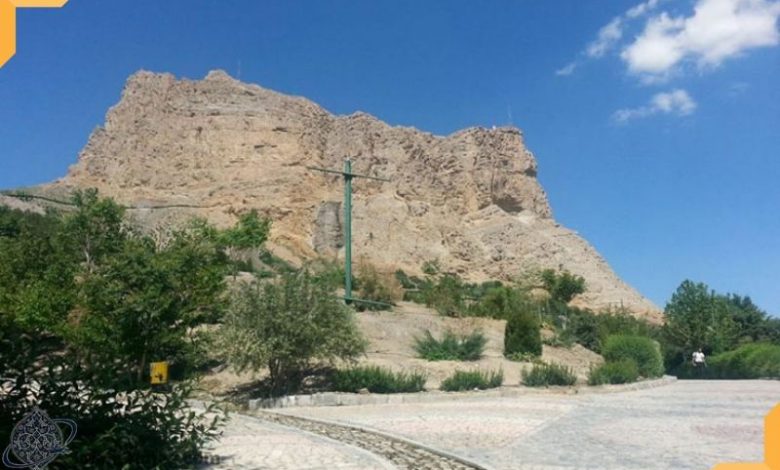 Isfahan Mountains are another attraction of this province. Isfahan province is one of the ideal and proper provinces for mountains. Today, we give you more information about Isfahan Mountains to enjoy by traveling in the mountains.
Division of Isfahan Mountains
In a total division, Isfahan Mountains can be divided into two parts; some of the mountains are being emerged from the advancement of the Zagros mountain range in Isfahan province and the other part belongs to the central mountain range Iran.
In the first part, we can say that the highest part of the Zagros mountain range,
means Dena separates Isfahan province from Kohgiluyeh and Boyer Ahmad province in the form of a natural wall,
and in the second part, we can refer to Karkas mountain as located in this province and is one of the most famous mountaintops of Iran's central mountain range.
List of Isfahan Mountains:
1- Soffeh Mountain
Soffeh Mountain is a part of Iran's central heights that is located in the southwest of Isfahan.
This mountain is being ended from west to Takht-e Rostam and Dareh Khan Mountains, from east to towns and residential complexes, and from south to open lands and railroad.
Soffeh Mountain has been provided very good facilities for sports and entertainment activities like:
walking
hill climbing
mountaineering
rock climbing
because of its proximity to Isfahan city and having proper height and the diversity of its ups and downs.
There is a spring named "Darvish spring" and 200 meters higher than it, a yellow flower spring is being placed.
Soffeh Mountain is being ended to flat stony space on the west side and for this reason, the mount is being called "Soffeh".
In the past, Chartaq (pantice) was being built in this place and there was a big stone- trough near it that its cold water was being provided by the snow- water of the mountaintop.
Since Soffeh mount is one of the most famous tourist attractions of Isfahan, the municipality of Isfahan has expanded the green space of this mount's hillside in recent years including setting up of cable car line, funfair, bowling center, restaurant and etc.
2- Dena Mountain
Dena Mountain is a part of Zagros Mountain (central Zagros) that it is being extended from northwest to southeast.
This mountain range with an approximate length of 70 km is the common border of Isfahan province from the north and east, Kohgiloyeh and Boyer Ahmad from the west, and Fars from the southwest.
Dena mountain range is divided into three main ranges (central, Northwest, and southeastern) and one vertical secondary range by three passes of Bizhan western Morgol and Poutak.
Dena mount is so rich in terms of animal diversity.
3- Shahan Mountain
Shahan Mountain which is located on the margin of Zagros, being started from 40 km northwest of Fereydoun Shahr of Isfahan province and it is being extended with a length of about 43 km till 25 km of Fereydoun Shahr.
The average width of this mountain range is about 10 km and the highest peaks of it are Mark, Lashoum, Darreh Ghoul, Shahankouh, and Vari.
The highest peak of this mountain range is Shahan Kouh which is located within 20 km from Fereydoun Shahr and its height from sea level is 4040 m.
On the hillside of this mountain, there are various villages located there that we can refer to villages of Sardab Bala, Sardab pain, and Shahan.
In fact, the appellation of this mountain range is because of locating Shahan village on the western hillside of it.
The rain intensity of this mountain is about 800 to 12000 mm and the average annual temperature of it, is between 5- 10 degrees.
4- Dalan Mountain
Dalan Mountain belongs to the central Zagros mountain ranges that are located west of Isfahan province in the three:
townships of Fariden
Chadegan
Tiran and karvan.
Dalan mount is being extended from northwest to southeast in a form of a parallel mountain range with a length of 60 km and an average width of 7 km. in the middle of the mountain range,
it is being in a form of two mountain ranges that are corridors with a degree of about 30 degrees that northern range is being ended at Ahmad Reza village and Morghab spring,
but the southern range is connected to Najaf Abad and Shahre Kord mountain ranges around Isfahan- Chadgan road.
This mountain has considerable plant and animal diversity and is used by the stockbreeders and beekeepers of the region.
Among the capacities of this mountain range, we can refer to the existence of lots of fountains and waterfalls.
5- Akhoure Mountain
Akhoure mountain belongs to a part of the giant Zagros mountain that is being emerged as a result of expanding the mountain from Lorestan province to Isfahan province.
The headline of Akhoure Mountain is being started from the north of Fereydoun Shahr and extends to the northwest of Isfahan province.
This small mountain is being consists of various mountains like:
Hashtad Mountain
Sefid Mountain
Siyah Mountain
etc.
The highest peak of this mountain range is called "Hashtad ".
6- Mahdasht Mountain
Mahdasht Mountain is a part of Iran's central mountains that is consisted of various parts, like:
Kolah Ghazi Mountain
Shah Kouh Mountain
The highest peak of this mountain is located southeast of Isfahan and is named Kolah-e Ghazi mountaintop its height is 2534 meters. Kolah Ghazi Mountain Is considered a preserved region and the shelter of wildlife and goat and ibex herds are living there.
7- Golestan Mountain
Golestan Mountain with a height of 3631 meters is located on the path of Khansar to Isfahan and is 15 km from Khansar city in Isfahan province.
This mount with the direction from the southwest to the northeast has good vegetation like fritillary, tamarisk, rhubarb, thyme, mushroom, almond, mountain onion, and herbal plants.
The existence of this colorful vegetation has made Golestan mountain the most beautiful mountain in Isfahan province; its beauty is indescribable in Ordibehesht.
FAQ
Can you name some of the facilities of Soffeh Mountain?
Cable car line, funfair, bowling center, etc.
Which mount is the most beautiful mountain in Isfahan?
How much is the average annual temperature of Shahan Mountain?
Conclusion
The list of Isfahan Mountains was just a number of mountains that exists in Isfahan. There are many mountains in Isfahan and each of them has its own beauty.
We suggest that during your trip to Isfahan, visit its mountains and enjoy mountaineering.
Have you ever visited Isfahan Mountains? Which mountain? What kind of facilities does it have?
Did you just walk or went to hill climbing, mountaineering, and rock climbing?
How about its wildlife? Share your experiences with us…