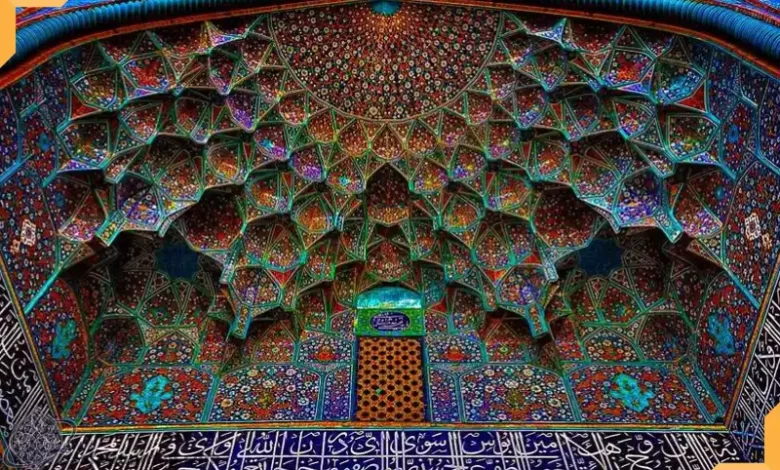 Kashi Kari is a kind of ceramic product that is being produced in different sizes and thicknesses.
One side of it is completely straight and glossy and used for interior and exterior decorations of the building.
In the following, we read more about this ancient and beautiful art.
Building Kashi Kari (Tile)
Short History of Iranian Tile Work Art
Building Kashi Kari is in fact, the art of combining and putting together different tiles; colorful tiles with different designs and patterns that bring a unique appearance to the building's space.
Kashi Kari is an Iranian art that reached its climax with the entrance of the Islam religion into the Persian language land and the creation of Iranian- the Islamic architecture style.
This art is so hard but has surprising results. This art is the fifth fundamental procedure in building decorations.
Using tile for building decorations in Iran has long antiquity and Iranian Tile Work art returns to 1500 years B.C.
Discovered works from that period show that Iranian used glazed bricks, and decorative and inlaid tiles in buildings.
Most historians believe that the word of "Kashi" has been taken from Kashan city.
The beauty of many places in Iran and the world owes to the Tile Work (Kashi Kari) decorations; an art which is showing an eye-catching pattern.
Different Kinds of Kashi Kari
Tile Work (Kashi Kari) is being executed in different ways. The most common kinds of Tile Work in Iran include:
1- Faience Tile Work (Kashi Kari)
The most beautiful and also the hardest form of tile is faience that just great craftsmen can do it.
In this kind of art, different pieces of tile have been cut and put together to create a pretty fabric of tiles.
This art became popular in the 4th century and in the period of the Seljuk dynasty and reached to climax in the 8th century.
In this century, different parts of tile became smaller and creative designs were created.
Faience Tile is being done in several stages; at first, the craftsman draws the intended design and colors it.
Then, the design is numbered and divided. After this phase, the design is cut from the paper and classified according to the color. These papers are glued to the tile.
This art is being used in different important monuments.
Safavid favored this model of Tile Work (Kashi Kari).
Sheikh loft Allah mosque, Abbasi Grand mosque, Abbasi caravansary, Tabriz Kaboud mosque, and parts of Niavaran palace are the monuments where we can see examples of faience tile.
2- Seven-colored Tile Work
Tiles with regular forms and dimensions are set together according to the taste of craftsmen in:
square
rectangular
and hexagon forms.
Black, white, azure, turquoise, red, yellow, and reddish-brown are the common seven- colors that are used in this kind of tile.
Seven-colored tiles are being observed from the Achaemenid period, but have not been used seriously in monuments.
This model of tiling has more speed than the Faience tile and we can see it in religious places.
After the spread of Islam, this model is seen in mosques, especially minarets. Isfahan Chahar Bagh School is one of the monuments where we can see a pretty example of this kind of tile in it.
3- Maagheli Tile Work (Kashi Kari)
Putting together very small tiles that have square or rectangular forms is Maagheli Tile Work.
It is the combination of tiling and brick that minimizes the rate of expansion and contraction of tiles.
Different straight lines in vertical and horizontal axes and sometimes diagonal lines with 45-degree angles and checkered are being used.
It is called "Banai" because this tile was ornated with Kufi Banai script and was used in different levels of architectural decorations.
This kind of tiling was invented before Islam's advent, but it reached to climax in the Islamic period and in the 5th century.
This art can be seen in remaining monuments from Timurid and Ilkhani periods and also in recent works like Imam Reza shrine and Imamzadeh Saleh.
In Isfahan Grand mosque and Ali mosque, there are also inscriptions in this style.
4- Stalactite Tile Work (Kashi Kari)
Stalactite has an important place in Islamic- Iranian architecture.
Totally, stalactite is in the form of a ladder, step by step, and like chandelier pendants.
Stalactite has to build aspect, but over time, it got decorative aspect and used in most of the important monument's entrances like mosques and bazaars.
Stalactite is a kind of decoration that depends on different materials like tile and plaster. This kind of tile has many forms.
Stalactite is one the most important pillars of Islamic architecture because its expanse has been prolated in Islamic regions from east to south of Spain.
The most beautiful stalactites are being seen in Safavid architecture and in the complex of Naghsh-e Jahan Square and Abbasi Grand Mosque.
5- Lattice Kashi Kari
It is a kind of tiling that tile becomes a network; in a way, the light can pass through it.
Among remained architecture works from past periods like:
there was a curtain or lattice window from ceramic or tile that according to the opinion of some experts, the reasons that caused these networks are Iran's variable climate, strong and bright sun, wind and storm and also religious and national special beliefs.
The lattices of Sheikh Lotfallah mosque, Jafar Isfahani tomb, and sheik Safi al-din Ardebili tomb are the most beautiful examples of lattice tiling.
6-Ingredients of KashiKari
The ceramic piece that constitutes the main part and framework of the tile
The glaze on it that is a glass material and it forms the upper part
One of the most important factors in the tiling industry is the equal expansion coefficient of these two ingredients.
Steps of tile Work preparation (Kashi Kari):
Making mud
Molding
Drying
Tile baking
Tile glazing

FAQ
Can you name some of the different kinds of tile?
Faience, Stalactite, etc.
Which kind of tiling was used for Isfahan Chahar Bagh School?
Which tile is the most important pillar of Islamic architecture?
Conclusion
From long ago until now, different ways are used for the monument's architecture.
One of these architectural attractive ways is Tile Work (Kashi Kari) which is common in Islamic lands.
Do you like the art of Kashi Kari?
Have you ever seen historical places that were decorated with this art?
Which kind of tiling art is so interesting for you? Share your opinions with us…