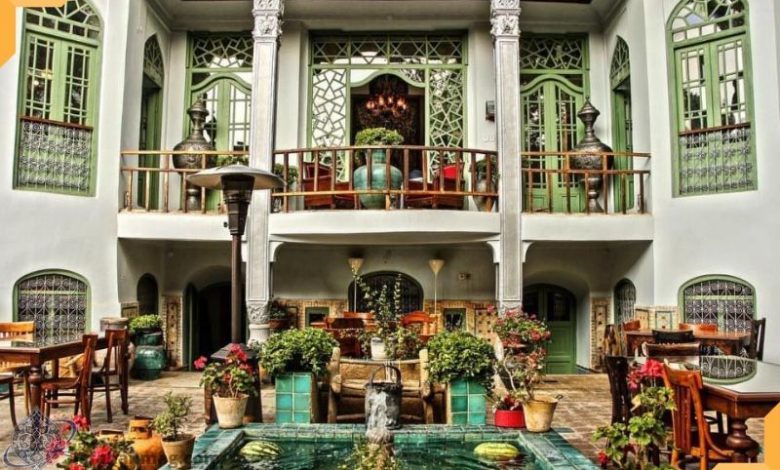 "Namakdan Mansion" is an attractive and unique Café-Restaurant that is located in Isfahan province, Iran. Namakdan is a funny name for a restaurant.
In a modern world, there are many attractions that owe their fame to the past; but among these, there are other attractions that despite being newly established, create a sense of enchantment from the past inside of us.
Namakdan mansion is one of these attractive places that takes us to the past and our desirable memories with its traditional atmosphere and foods. Let's visit from this mansion together!
Location of Namakdan Mansion
Namakdan is in the neighbourhood of one of the best attractions in the world, which means Naghsh-e Jahan square which is the best architectural masterpiece of the Safavid period that still amazed its visitors.
This mansion is located in the passage behind the kitchen, one of the entrances to Naghsh-e Jahan square from the side of Ostandari Street.
If you go to this café restaurant, you have the chance to have a spectacular perspective from its big terrace to Naghsh-e Jahan Square.
Yard of Namakdan Mansion
Those café- restaurants that have yards and interior space are more attractive than others. This mansion that has a big and pleasant yard and includes the building of the mansions is a different kettle of fish.
The floor of this yard is decorated with traditional mosaics that surround the mansion.
Woody tables and chairs in different numbers and dimensions are being arranged in the style of traditional cafes; as if inviting everybody to sit and talk.
The yard is so pleasant and has tall trees that during the day, their branches are an awning for tables and chairs. A number of big vases and traditional decorative objects like jugs are being put in the yard.
Building of Namakdan Mansion
From the short, blue-coloured corridor where we set foot in the yard, the first thing that attracts our attention is a white building with green-coloured window frames.
This monument is the main building of Namakdan Mansion that is consisted of the ground and first floor and has traditional and very pretty architecture.
The contrast of this white-coloured building with the straw walls of the yard has created a unique effect.
The building of the mansion is made of two symmetry porches that are connected with a long patio.
This patio is the most impressive part of the mansion and the table and chairs that are arranged there are winking at you.
Rooms of Namakdan Mansion
There are doors in both west and south side of this mansion that guide you to the inside of the mansion. There are antiques in the path of the mansion's corridors that take you to the old world.
The rooms of this mansion has old color and smell.
There are wooden tables and chairs in the middle of every room to sit on it, become immersed in the traditional space of it and order your food.
Traditional diverse designs, carpets and rugs of Turkmen horses, Kurdish weave- works, Lurs handmade, royal and elegant tables with antique perspectives are visible in the space.
You can observe wall- hangings and strange and elegant clothes until your order becomes ready.
The balcony of Namakdan Mansion
It seems that the most attractive part of this mansion is its balcony off it.
A big and long balcony toward the yard and Naghsh-e Jahan square with two comfortable sofas and small tea table is a cozy place for twosome gaps.
In the hot evenings of summer, you can sit on this pretty terrace and by ordering a cold syrup, immersed in peace and joy. In the cold season, you can drink tea or café on this balcony.
Foods and Drinks in Namakdan Mansion
If you don't like fast food and want to eat homemade and traditional foods, this mansion is a proper choice for you.
On the menu of this café restaurant, there are tasty Iranian foods that increasingly link us to past diaries.
One of the most delicious foods in this mansion is "Polo mash" which is prepared with broth and foreshank.
On Fridays, "Abgousht" is the only food that is being served in this mansion.
On the menu of this mansion, there are hot drinks. You can order different kinds of coffee that are prepared in the best quality.
Referring to a Relic of the Safavid Era
With hearing the name "Namakdan Mansion", the first thing that comes to your mind is the relation of salt and saltcellar with Iranian foods and tablecloths.
On the other hand, this name refers to a destructed historical monument. This mansion is one of the monuments of the Safavid era that was destructed by the command of Zel al- sultan, Isfahan's ruler in the Qajar period.
Zel al- sultan was the son of king Naseroddin and when his brother, Mozaffaruddin Shah reached reign, he lost his hope to achieve monarchy.
He destructed some of the masterpieces and prominent souvenirs of the Safavid era that were unique in the world and also sold their materials.
Namakdan Mansion was a three-decker and octagonal building that was located at a distance of 150 m from a hall of mirrors and 230 m from the river.
At the peak of the destruction period, finally, it was this mansion's turn and was destructed. Today, there isn't any sign of that mansion it's range is changed to street, park and residential and office buildings.
Instagram: instagram.com/namakdan.mansion
FAQ
Which square is located near Namakdan mansion?
Which food is served in Fridays?
Who destructed this mansion?
Conclusion
The sense of sitting in Namakdan Mansion is like that you are being presented in a location of an old movie and immersed in your role. When you travel to Isfahan, don't forget to visit this attractive mansion.
Have you ever visited Namakdan Mansion? Which foods did you taste in this cafe- restaurant?
Did you like its services and atmosphere? Share your ideas with us…