If you are looking for luxury hotels, 5 stars and 4 stars hotels in Isfahan, in this article you can find the complete specifications and the details about hotels and all of your questions are answered.
we are going to introduce 4 luxury hotels in Isfahan city in the shape of 5 stars hotels called:
and 4 stars hotel in Isfahan called:
Aseman hotel
Pirouzi hotel
5 stars hotel in Isfahan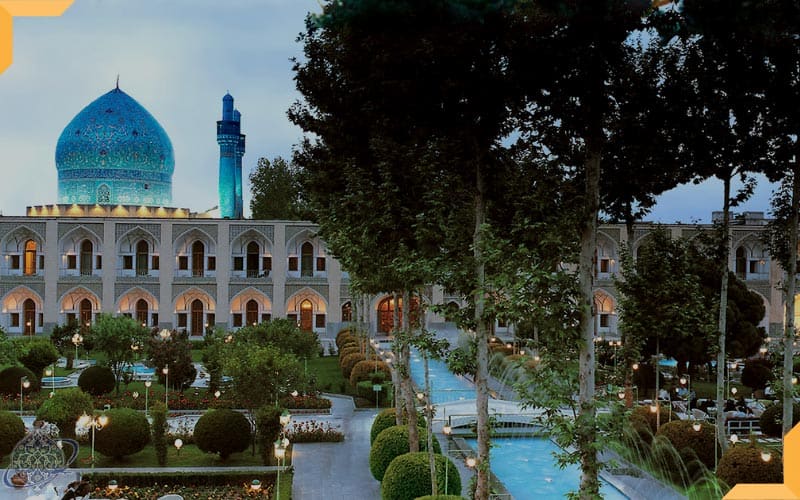 Abbasi Hotel in Isfahan is one of the most beautiful and luxury 5 stars hotels in this city. This hotel has a historical value for 300 years ago. It is on the street of Chaharbagh and it has a very good position on there.
It is in the historical context of the city and it is near to many places such as tourist attractions, city centers of Isfahan like Naqsh-e Jahan Square, Zayanderud, Hasht Behesht Palace, and Bazaar Isfahan.
With a choice of Abbasi hotel in addition to good access, you can enjoy living in one of the glorious architecture of the Safavid dynasty period.
This hotel has the best accommodation units in order to create a calm environment for its guests. The accommodation units, which are located around the beautiful courtyard of the hotel, provide guests with a comfortable stay while maintaining their original architecture and having a stylish layout and complete amenities.
Facilities on offer include air conditioning, high-speed Internet access, a television, a safe, and a fridge.
Standard single and double rooms overlook the city and at the same time provide a comfortable stay. Landscape rooms and campus with beautiful views of the garden with Safa Hotel are another option to stay in this hotel. But if you want more space and better facilities, you can choose hotel suites.
Including campus suite, Qajar suite with Qajar architecture style, and Safavid suites with Safavid architecture and very beautiful and luxurious design that all have a view of the beautiful garden of the hotel and will leave lasting memories of staying in this hotel. The hotel also offers two-bedroom apartments for larger families and groups.
Depending on the number of people, your taste, and your budget, you can choose any of the hotel accommodation units.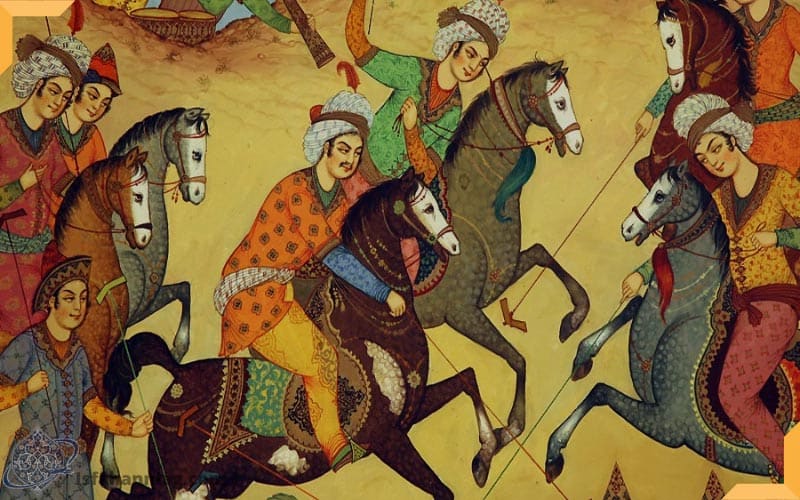 The hotel's restaurants serve the best and most delicious food. Start your day differently than ever by having breakfast in the hotel's breakfast room with a beautiful atmosphere full of Qajar-style drawings and mirrors.
"Chehel Sotoun" restaurant has a luxurious environment with magnificent interior design and walls covered with paintings related to the Safavid and Qajar periods. This restaurant serves guests on two floors and offers a variety of Persian and French dishes.
The hotel's traditional dining room is located at the end of the garden area and hosts guests in a traditional indoor and outdoor setting. Naghsh Jahan Coffee Shop, which is a mixture of lasting plans and beautiful designs, is a good place for friendly gatherings or formal meetings.
The café serves a variety of drinks, cakes and desserts, pizza and fast food. In addition, the hotel has a traditional teahouse with tiled walls and high ceilings and a bathtub where guests are treated to a variety of teas, teas, and traditional noodles.
One of the outstanding features of Abbasi Hotel is its beautiful garden. A fun and clean garden that is a real example of a genuine Iranian garden. The presence of flowers, trees, and the stream that passes through it has given it a unique and pleasant effect.
Read more: About Armenia Hotel Isfahan
You can sit on the grounds of this beautiful garden and enjoy the original architecture and magnificence of the beautiful hotel mansion.
In this hotel, special halls are provided for holding various ceremonies. A total of 11 multi-purpose halls with capacities between 20 and 550 people are suitable for holding various seminars, banquets, and receptions of official and informal officials. In these halls, which are equipped with full equipment and facilities, it is possible to change the arrangement according to the purpose of the event.
Other hotel facilities include a hotel shopping center. With various stores including carpet galleries, handicrafts, turmeric and souvenirs of Isfahan, jewelry, perfume and cologne, books and gifts, women's clothing, and men's hairdressing salon, this center meets many of the guests' shopping needs with the least amount of time.
The hotel sports club also gives you extra energy. In this complex, which includes a swimming pool, sauna, jacuzzi, gym, and massage services, in addition to sports and entertainment, you can get rid of the fatigue of daily surfing and regain your physical and mental strength.
In addition, the lobby has the opportunity to use the cafeteria and secretarial services for hotel guests and conference attendees.
More information about Abbasi Hotel in Isfahan
History of Parsian Kowsar Hotel in Isfahan
Kowsar Hotel in Isfahan was opened in 1350 under the supervision of Sheraton Hotels Group, after which it was renamed Kourosh Hotel for a while until after the Islamic Revolution, its name was changed to Quds Hotel and then Kowsar International Hotel. This is called the first 5-star hotel that has won the national standard mark.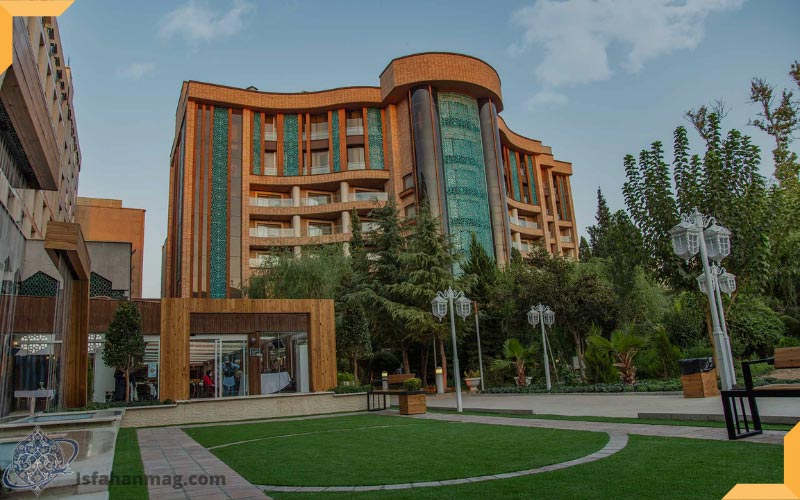 Currently, this place is a subset of Parsian International Hotels. In 2004, the entire hotel was completely renovated to improve its services in all aspects. After adding 40 new rooms and bringing the number of rooms to 170, the hotel was reopened.
In 2016, the hotel's water complex was renovated, which guests can use. The turquoise building, which overlooks the garden, was also inaugurated in 2017.
Services of Kowsar Hotel, Isfahan
This 5-star hotel has tried to satisfy all the needs of travelers and therefore has special services in terms of welfare (Abshar seasonal restaurant), tourism, business, sports, and food, each of which includes sections They become many.
Welfare Sevices
You can safely park your car in the open or multi-story car park and under the roof of the complex and go to the hotel's 24-hour reception.
If the hours of arrival and departure to the hotel were very different from the delivery time of the room, leave your luggage and other items in the luggage warehouse and use your time for a walk-in Isfahan and then pick them up from the hotel.
Laundry (for a separate fee), ATM, Internet cafe, secretarial services, and guest communication unit are among the other amenities of Kowsar Hotel in Isfahan.
Food service
The hotel's pastry and dessert booth prepare more than 70 different types of cakes, pastries and desserts. In the whole complex of Parsian hotels, they have launched the Parsua bread and sweets section, which in addition to hotel guests, accepts orders from everyone and delivers sweets with high quality and luxurious packaging to the customer.
Also, do not worry about the main dishes, there are 6 restaurants here, which we will introduce in the restaurant's section.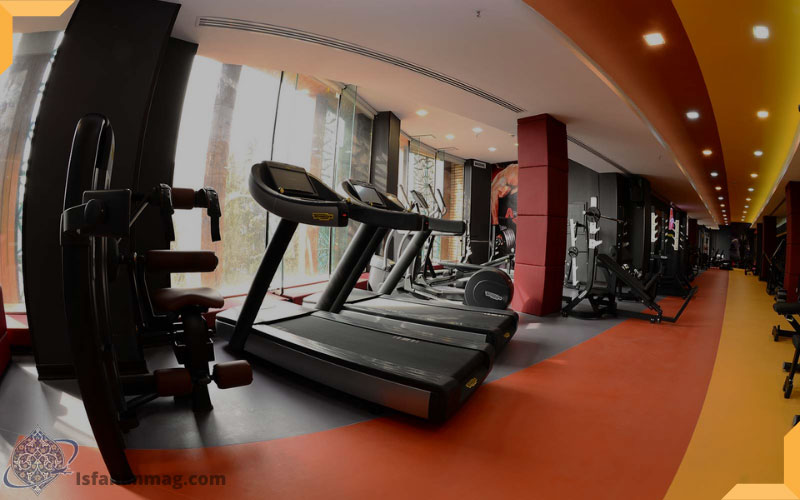 Sports services
The sports complex of Parsian Kowsar Hotel in Isfahan is very complete and equipped. There is a swimming pool, Jacuzzi, dry and steam sauna, Turkish bath, gym, and sports equipment store, along with air conditioning, massage parlor, coffee shop, and barbershop to exercise safely and then relax a bit. Enjoy your trip to half the world.
Rooms of Parsian Kowsar Hotel in Isfahan
The rooms of Kowsar Hotel in Isfahan include a single room, double room, duplex suite, normal suite, royal suite, turquoise single room, normal turquoise suite, royal turquoise suit, and double turquoise room. We have brought them.
Room facilities of Kowsar Hotel in Isfahan
Efforts have been made to provide maximum amenities for hotel guests so that they can have everything they need during their stay. The price of hotel rooms currently varies between 491,000 Tomans to 168,000 Tomans, and you have to pay 215,000 Tomans for each extra bed. The following is a list of these hotel rooms:
Electronic safe deposit box
Automatic fire alarm and extinguishing safety system
Hotel smart TV
IPTV system
BMS system
Electrical connection to the guest card
Air conditioning system with central control
Double glazed windows
Refrigerator
Mini bar
Room service 24 hours a day
International and international telephone
Ability to connect to high speed wireless internet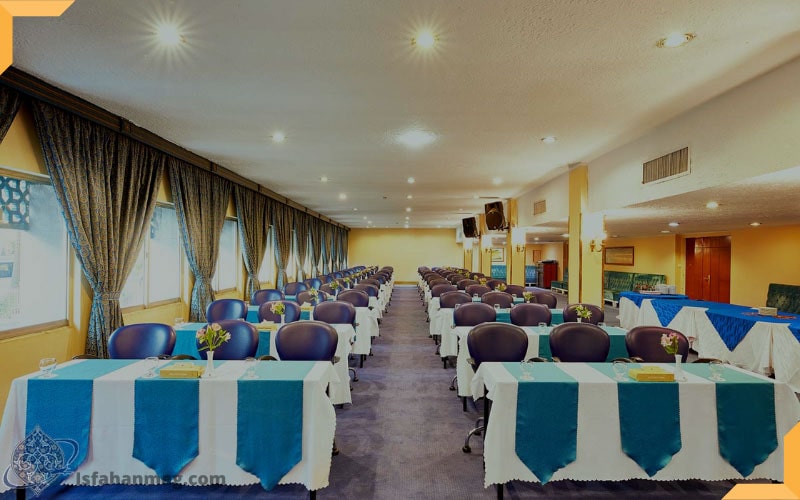 Restaurants of Parsian Kowsar Hotel in Isfahan
At present, 6 different restaurants inside the hotel are ready to receive the guests of the complex, and we will examine each of them along with their features.
Waterfall seasonal restaurant (Abshar seasonal restaurant): Located next to the hotel pool and lush garden and serves a variety of kebabs and barbecues. (Working hours: 20:00 to 23:30)
Green Restaurant (Sabz restaurant): This is the first and largest restaurant in Isfahan. Its roof is movable and its walls can be removed. There is no frying oil inside the restaurant and a variety of steaks, pasta, pizzas, and vegetarian dishes are prepared and served in cast iron and wooden dishes.
Turquoise Lounge Lobby (Firouzeh Lounge Lobby): As its name implies, it is located in the lobby of the Turquoise Building, and with a variety of hot drinks, cedars, desserts, and cakes, it is a suitable place for hotel guests and a place for friendly meetings. (Working hours: 10:00 to 23:00)
Zarrin Restaurant: Zarrin is one of the old restaurants in the complex that has been hosting hotel guests for more than 40 years with various Iranian and foreign dishes. (Breakfast: 6:00 to 10:00, Lunch: 11:00 to 16:00, Dinner: 19:00 to 23:00)
Sarv traditional restaurant: It has a beautiful and traditional design and live music is performed in it at night. Inside the restaurant, a buffet of Persian salads, desserts, drinks, and beverages has been placed to make the atmosphere more reminiscent of ancient Iran. The interesting point of Rustavan is its craftsmanship with Haj Mahmoud Shafaat (one of the most prestigious and famous Biryani brands in Isfahan) and you can taste it right inside the hotel. (Dinner time: 20:00 to 23:30)
Parseh Simin Restaurant: The main feature of Parseh Simin is that it is open 24 hours a day. You can go to it whenever you feel hungry. It serves a variety of Persian and French dishes.
Address and details of Parsian Kowsar Hotel in Isfahan
As we said, Kowsar Hotel in Isfahan is located near 33 bridges(Si-O-Se Pol Bridge) and next to Zayandehrud.
4 star hotels in Isfahan
Introducing this four-star hotel in Isfahan will acquaint you with its main specifications and features.
History of Aseman Hotel
Aseman Hotel is known as the tallest building in the historical part of Isfahan. This modern hotel with all its equipment was opened in 2005, coinciding with September 27, 2005. The hotel opened on World Tourism Day.
One of the advantages of a 4-star hotel like the Aseman hotel is its location on the banks of the Zayandeh River.
The building of Aseman Hotel has been built on land with an area of ​​9000 square meters. Among its 13 floors, 93 rooms can be identified. Floors filled with double beds, royal suites, regular suites, apartments, and revolving restaurants. Of course, conference halls should not be left out either.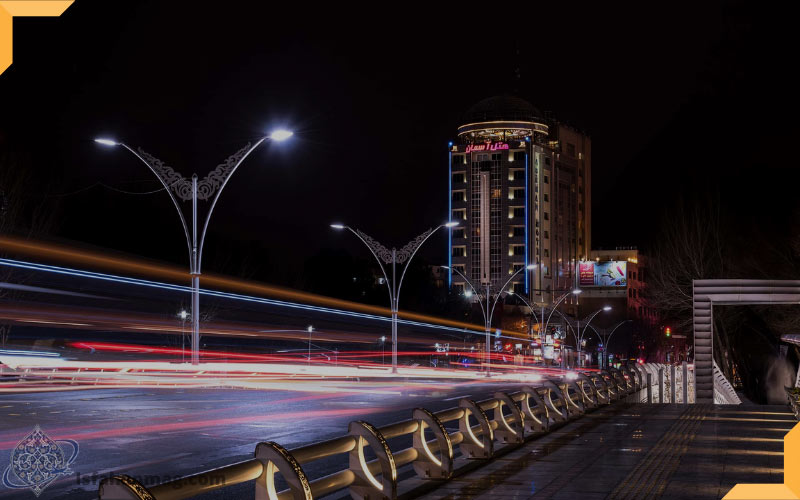 Aseman Hotel services in Isfahan
After entering the hotel, leave your car in the free parking lot with a capacity of 40 cars at Aseman Hotel in Isfahan. Cargo services, shoe waxing machine, alarm, 24-hour reception desk, and lobby with a capacity of 40 people from the moment you enter the hotel.
Cafeteria, printers, and photocopiers are provided for business guests. As the wake-up service wakes you up at the requested time. There are ATMs in the lobby of Aseman Hotel and newspapers and currency exchange.
Laundry and dry cleaning services
Wi-Fi internet and public telephone in the lobby
Daily cleaning of rooms
Taxi and cab
Coffee Shop
Luggage room
Isfahan Souvenirs Shop
Public prayer hall
Aseman Hotel reception services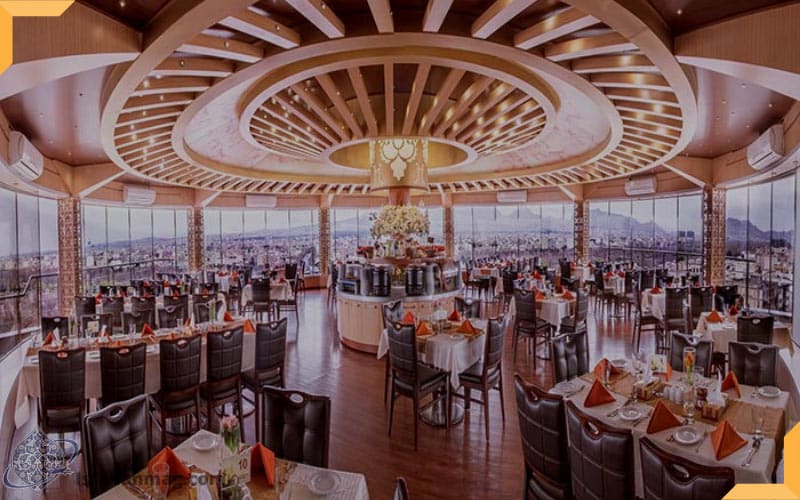 Facilities of Aseman Hotel rooms in Isfahan
Double or twin rooms and even single rooms have full facilities; What about the suites of Aseman Hotel in Isfahan! Digital TV, in-room catering, breakfast, fridge, and tea maker will help you get out of the room. Free mineral water and Wi-Fi internet are also available in the rooms of Aseman Hotel in Isfahan. Other facilities of Aseman 4-star hotel include the following:
Lampshades and bedside lamps
closet
Slippers
Safe box
drawer
Telephone and ventilation system
clothes hanger
Furniture
French toilet
Cosmetics
Costly catering
Fire extinguishing system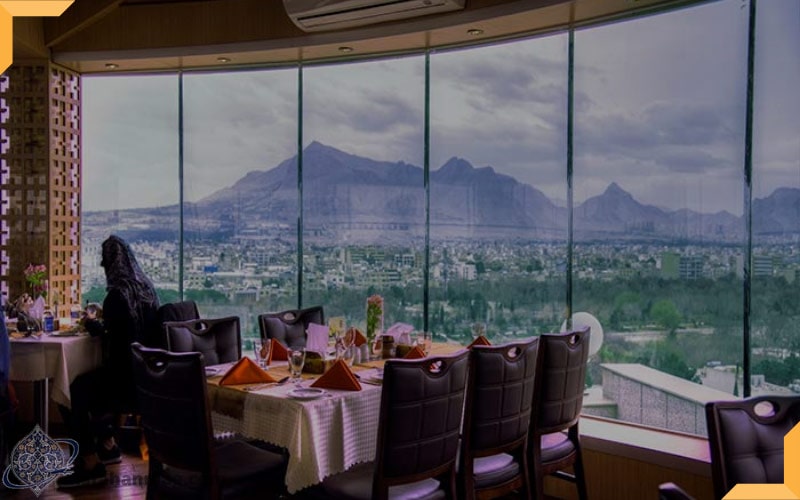 Amenities and entertainment facilities of Aseman Hotel in Isfahan
The revolving restaurant of Aseman Hotel in Isfahan is on the top floor and faces the river. The pool of Aseman Hotel needs to be coordinated for use and its cost is determined according to the hotel tariff.
The sauna and jacuzzi are by the pool. The coffee shop also serves Iranian and foreign guests in the lobby.
Address and cost of accommodation at Aseman Hotel
Depending on the type of room selected, the cost of accommodation in Aseman Hotel in Isfahan will be different. However, the price range is calculated from 380 thousand tomans to 817 thousand tomans.
Most of the prices are related to the hotel's two-bedroom apartment for two people or the honeymoon suite of Aseman Hotel in Isfahan.
Aseman Hotel Address
On the bank of Zayandeh River: Shahid Morteza Motahhari St., next to the children's park, in front of the metal bridge, corner of Shahid Beheshti St.
Hotel phone: +98 31 32354141
History of Isfahan Pirouzi Hotel
Piroozi Hotel is one of the 4-star hotels in Isfahan, which was opened in 1975 in the lower four-story Chahar Bagh area, which has 96 single and double royal and central double rooms. Formerly known as the Pirouzi Hotel, it was later renamed the Dariush Hotel.
This hotel is a destination for many tourists to the city of Safavid history and view, both in terms of facilities, as well as in terms of access and the price of reservations, and this has caused the number of hotel reservations to show a high number of victories.
If you are planning to travel to the beautiful city of Isfahan, the capital of handicrafts and antiquities, you will definitely dazzle your eyes and lose its beauty by reviewing different photos of hotels and their facilities when booking Isfahan Hotel, lobby, and the entrance of Piroozi Hotel.
Looking at a very stylish space with mirror columns on one side, and an exhibition of telephones and traditional telecommunication devices on the other, a very luxurious coffee shop with its pleasant music sound in the lobby is not something that makes us feel good and to not stay in it.
General facilities and rooms of Piroozi Hotel in Isfahan
The history of the Piroozi Hotel in Isfahan is more than 40 years, but due to the renovation that was done in 1396, with the highest level of standard and facilities, it is ready to receive guests.
Dear travelers who want to choose and book a hotel in Isfahan, by booking Piroozi Hotel, it is possible for them to choose between rooms 1 and 2 on the Royal and Central board, with a total capacity of 225 people.
It should also be noted that in the various options before you to book a hotel in Isfahan, Piroozi Hotel is one of the few hotels in this city that also has a room for the disabled, which shows the high customer orientation of Piroozi Hotel management.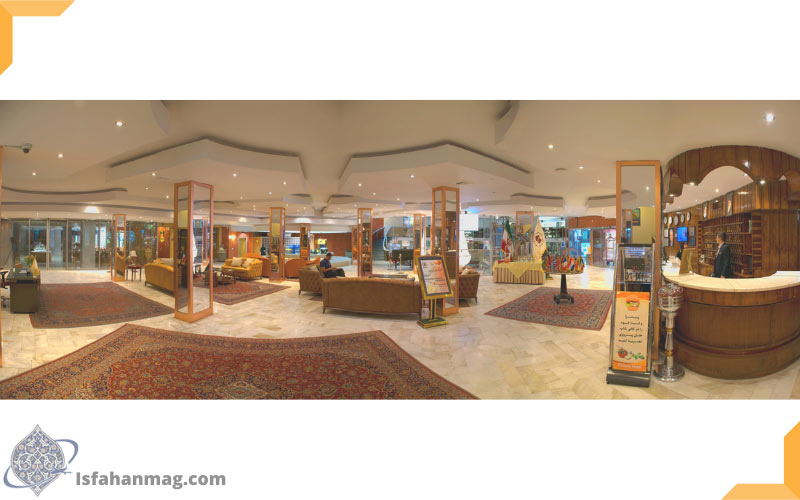 Among the general facilities of Piroozi Hotel, the following can be mentioned, which is a great advantage for travelers among other hotel reservation options in Isfahan:
Stylish and modern restaurant with the possibility of ordering a variety of Persian and French dishes and a capacity of 250 people, a conference hall that will allow travelers to hold all events with a reception by professional staff, swimming pool, gym for sports enthusiasts, handicraft shop For easier shopping for souvenirs, free parking with a capacity of 35 cars, free high-speed internet, laundry, taxi service, a stylish and cozy coffee shop with relaxing music where you can order a variety of drinks and a safe.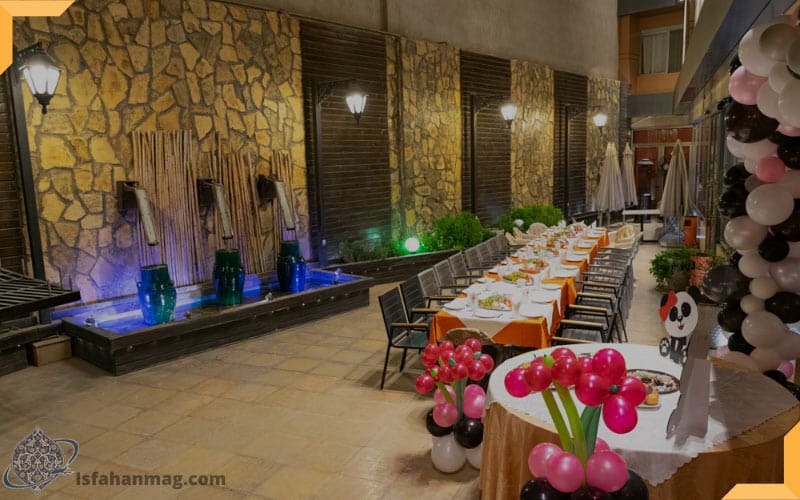 Facilities of Piroozi Hotel in Isfahan :
Luggage room
Reception Hall
Handicraft and souvenir shop
Fire extinguisher in the lobby
Ability to charge electronic devices
Exchange
First aid box
24-hour coffee shop
Car rental
Tour services
Wake up service
Ticket services
24-hour room service
Shipping services
fax
medical services
Housekeeping services
Newspaper
fast food
Ramp
conference hall
Laundry
Free and unlimited internet in the lobby
Safe box
wheelchair
cab
Outdoor coffee shop
Photocopy
Iranian restaurant
fire alarm
Indoor parking
Shoe waxing machine
emergency exit
Special room for the disabled
fire extinguishing
Western restaurant
LCD TV in the lobby
Disabled health service
Sufficient
print
Prayer room
Guest rooms and business meetings
Elevator
conference hall
Conference Room
Conclusion:
Isfahan is considered as one of the tourist cities of Iran due to its geographical and historical conditions and for this reason, it has many hotels. In this article, we have tried to introduce the most luxurious hotels in Isfahan (including 5-star hotels in Isfahan and 4-star hotels in Isfahan) and items such as history and a brief introduction and the services and facilities they have.

What memento do you have from the above-named hotels? Any good or bad experiences that you have about these hotels, we get glad that you share with us.