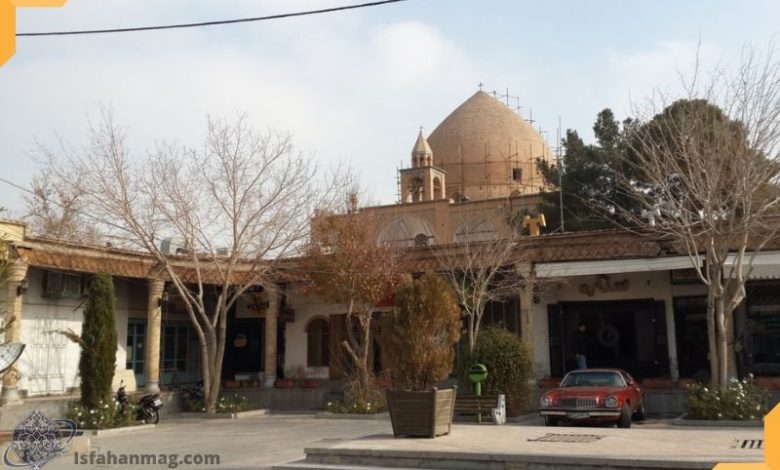 Hakoup church in Isfahan is located in the complex of Saint Mary and Hakoup churches. This complex was built during the period of the Safavid dynasty.
This church is considered as the oldest church in Isfahan and its construction returns to 1607 A.D.
in Persian, we can equivalent Hakoup church with Saint James church.
This church is located inside the Saint Mary church. In this article, we are going to get familiar with Hakoup church in Isfahan.
What is a church? "Church" is a building that is being used as a place for Christian meetings and worship.
The architecture of Hakoup church
Today, Hakoup church is a rectangular plan and located on the east-west side.
Its dimensions reached 2/12 in 3/9, but in the past, it has a plan in the form of a cross and these changes are due to the destruction of its southern transept in 1843 A.D.
Wide pillars have been connected to the northern and southern walls of the Hakoup church's building and some arches have been built on these pillars.
The ceiling of the building and 3 small arched domes of the church are also placed on these pillars and among these 3 domes, the middle dome is relatively bigger.
Hakoup Church is being built of brick. Interior walls are covered with plaster and exterior walls with plaster of clay and straw.
Two inscriptions are being installed on the top of the main entrance of Hakoup church, which is written in Armenian and related to 1607 A.D.
Who built the Hakoup church?
In the Safavid period, Isfahan Armenians were obliged to leave their city, which means Jolfa city in Nakhjavan, and migrate to the center of Iran.
More than 3000 families migrated to Isfahan and its surrounding regions like Ferimen or Chaharmahal Va Bakhtiyari.
After arriving at Isfahan and the margin of Zayanderood, they formed a neighborhood that was named similar to their old city, Jolfa, and were settled there.
Then, for gatherings, communications, and worships, they start to build churches in this region; famous and beautiful churches like Vank Cathedral church.
In fact, one of these churches was Hakoup church.
Beauty and simplicity of Hakoup church
When you enter Hakoup church, at first, you attract by its simplicity and beauty; a simple church with wooden beams.
The exterior wall of arches is decorated beautifully with the art of tiling. Tilings were done in the distance of the years 1651 to 1666 A.D.
Hakoup church has a big hall and it's rectangular.
The tall dome is located in the center of it. On the dome, there are small atriums being embedded and in addition to it, there are other small domes on the ceiling.
The weight of this dome is being placed on the arches that were being stranded on the wide pillars that are placed on the width of the main walls of the church.
Except for the Eastern side of stony pillars, the all-around church is being emerged in the form of a front that some arches are placed on its top.
Address of Hakoup church
New Julfa neighborhood, Nazar Sharghi Street, Bozorg Square
Reason for building the church
The human being had a deep tendency to worship from the beginning of creation and the sense of worship was always accompanied by him.
Hence, he began to build temples to achieve a safe shelter on this globe.
Christianity as a divine religion had been brought concepts and values from the time of Christ's birth till now for its followers its effects can be seen in the architecture of churches.
Why Isfahan churches are different from other churches in terms of architecture?
In Iran, the Armenians that migrated to the country had some differences from Iranian.
Since the official religion of Iran in the time of King Abbas I was Islam and Shia religion, Iranian have disagreed with the prevalence of Christianity.
Therefore, some religious differences were being appeared.
For solving these problems, king Abbas gave some concessions to Armenians, like building churches and he could keep them in their new land.
Of course, he commanded to build churches with an architecture that is different from Armenia's architecture.
So, Armenian architects built churches in the style of Iranian architecture and sometimes with the appearance of mosques; but in terms of decorations and attachments inside the monument, the king gave freedom to Armenian architects.
The appearance of buildings and materials of Armenian in Armenia was different from the material that was used in Iran.
This is caused by the different conditions of weather. Armenia's churches were built with stones and other materials, but in Iran, they haven't such materials, and therefore, they couldn't use their traditional art in the building of Isfahan churches.
Read more about Isfahan churches
FAQ
When does Hakoup church was built?
Which neighborhood does Hakoup church located on?
Conclusion
Hakoup church is registered in the 17th, Esfand of 1381 with the registration number of 7647 as one of the national monuments of Iran.
Hakoup church is considered the oldest Christian's temple in Isfahan.
During your travel to Isfahan, we suggest that visit this old church.
Have you ever visited Hakoup church in Isfahan?
How did you feel when you entered the inside of Hakoup church?
Did you take some photos from this church?
Share your opinions with us…