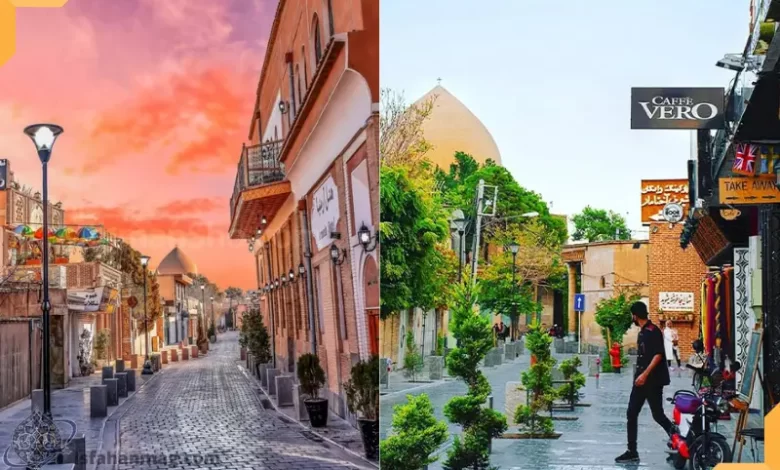 Jolfa in Isfahan is one of the most famous neighborhoods in Isfahan.
Jolfa neighborhood is located in Nazar Sharghi Street.
The Short history, location, and spectacular places of the Isfahan Jolfa neighborhood are just some of the subjects that we want to read in this article; tune on.
A short history of Jolfa in Isfahan
Near 400 years ago, the people of a city left their home under the command of King Abbas Safavid and entered Jolfa city which is now located on the soil of Azerbaijan.
The people of this city that were all Armenian, passed hard autumn and winter on the way, but by coming spring, they go to the provinces of Isfahan and Chaharmahal, and Bakhtiari.
About 3000 households of this group entered Isfahan city and the king gifted land in the margin of Zayanderood for improving his goodwill.
These lands now become very pretty towns with unique architecture and their name is being selected as "New Jolfa" due to the original safe place of Armenians.
Over time, other Armenians came to this neighborhood and the houses were built in their manner.
After building houses, it was church's turn to build that neighborhood smack Christian.
Jolfa neighborhood of Isfahan has a long street that is stretching from west to east.
The famous family of Khaje Sarafraziyan was settled in the western head of this neighborhood and the famous family of Yemenian in the eastern head of it to make the name of the western gate of Sarafraziyan and the eastern gate of Yemanian known.
Where is the Jolfa neighborhood?
Jolfa neighborhood is one of the best spectacular places in Isfahan that is located between Jolfa hotel, Jolfa square, and Vank cathedral. Jolfa is considered one of the most traveled neighborhoods of Isfahan.
This neighborhood is the habitat of Isfahan Armenian.
When we enter Isfahan, we should pass from Hakim Nezami Street to face a small tableau named Jolfa. When you enter this neighborhood, you immediately understand its impressive difference.
Jolfa neighborhood exhibits another world that is so spectacular and attractive.
Paved and clean streets, long clocks, churches, cafes, and all things are showing the impressive difference of this region in a way that it possible for you to return back and get dazzled for some seconds because of the beauties of this neighborhood.
If you intend to get familiar with the lifestyle of Europe people and totally the west of the country, It doesn't need to travel to foreign countries, because Jolfa of Isfahan will lead you to Europe as beautiful as possible.
The existence of cozy cafes with west-style music and impacted wooden chairs forces you to spend some seconds there drinking a cup of coffee or a glass of syrup.
There are many ponds and pools in this neighborhood that all of them are placing a sculpture in themselves.
The sculpture of the Virgin Mary that has a brass bowl full of water in her hands is shining beautifully among these sculptures.
It's interesting to know that in the narrow street of Jolfa, a car seldom passes and if you saw a car in this street, it passes by the citizens very calmly and with complete care.
New Jolfa
New Jolfa is located between:
two streets of Chahar Bagh Bala and Hakim Nezami (between bridges of Marnan and Si-O-Se Pol)
and was formed in the southern part of Zayandehrood by the hand of Armenians with the accompanying of king Abbas.
Armenians immigrated to Isfahan in 1605 A.D. and a year after it, they formed New Jolfa.
They created a street from east to west, meaning along the Zenderood, and put the name of Khaje Nazar on it which was one of the rich of the new Jolfa neighborhood.
Khaje Nazar is today's Nazar Street and that is consisted of eastern, western, and middle parts and had placed ten passages in it.
The northern part of new Jolfa which was located near the river, was the habitat of the rich because it benefits from a pretty landscape and the cool breeze of the river.
Pat attention that the name of New Jolfa is being taken from the name of Jolfa city on the riverside of Aras.
Isfahan Armenians lived for very distant years in this city and most of them include Armenians who migrated in the period of King Abbas I Safavid means in the year 1401 from Jolfa city in the riverside of Aras to Isfahan and started their new life beside Zayanderood.
Spectacular places in the Jolfa neighborhood:
1- Jolfa Churches:
There are 11 churches in the Jolfa neighborhood.
Unlike Europe churches, the design of Jolfa churches is very traditional and the materials applied in them are the clay.
The dome of Jolfa churches is the same as Isfahan mosques and there are many drawings on their interior wall of them.
In the following, we get familiar with some of the most important Jolfa churches:
2- Vank Cathedral
Vank cathedral is one of the most important and also the main churches of Jolfa it is remembered as the Grand church of Isfahan Armenians.
Of course, the Armenians named this church "Amena Perkich" which means holy savior church.
3- Bethlehem Church
Bethlehem Church is related to the Safavid period and was built in 1628 A.D.
4- Saint Mary Church
The complex of Saint Maryam Church returns to the Safavid period. Armenian built this church as they entered to Isfahan.
5- Saint Sarkis Church
This church is also related to Safavid period and has two domes each of them having 8 light well.
This monument was recorded in the list of Iran's national works on the 17th of Esfand, 1381.
Jolfa Famous streets:
Khaghani Street is one of the famous streets of Jolfa that has places many art galleries and cloth malls in it. Sang Tasrash- ha alley that is so famous and it's the haunt of Armenians is located in this street. Another alley that located in this street and revives the atmosphere old Jolfa for Armenians is Lat Astra Alley. These passages are considered as a cozy place for the resting of family members and gatherings.
Jolfa Cafés:
There are many cafes that make a nostalgic sense to you.
Some of them include:
Hermes Italian café restaurant
Bahar Narenj Café
Romance café restaurant
Ani café
Setareh café
Marsi café
Dalon Café
Ashoub café
How many churches are around Jolfa
When Armenians were immigrated to Isfahan?
Conclusion
Perhaps, Jolfa is the most beautiful neighborhood that you have ever seen in your life, but it doesn't pay so much attention to it;
so visit this neighborhood on your trip to Isfahan to make an unforgettable memory for yourself and your family members.
Have you ever visited Jolfa in Isfahan? Did you interact with Armenians in this neighborhood?
Which café did you select to rest? Share your experiences with us…