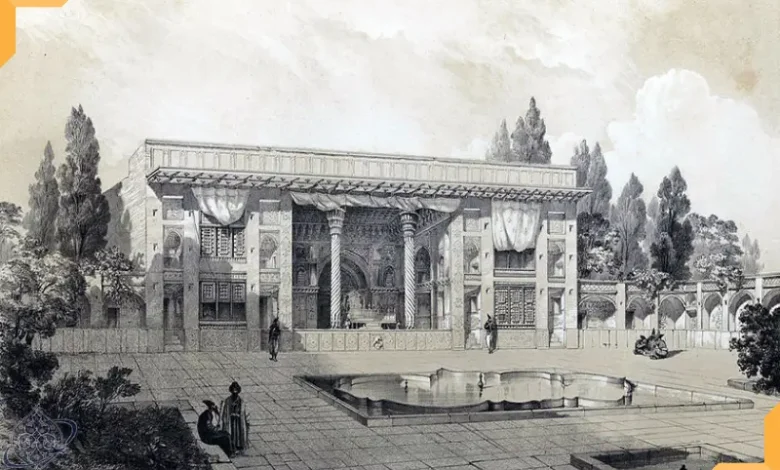 What Empire's Capital was Isfahan? King Abbas, I Safavid selected Isfahan as his empire's capital in 977.
Safavid selected three important cities of Tabriz, Ghazvin, and Isfahan as their capital during three centuries of their rule over Iran.
At that time, the advantages of Isfahan city caused King Abbas I to change his capital from Ghazvin to Isfahan.
In this article, we are going to get familiar with the advantages of Isfahan as the capital, King Abbas I, and the Safavid dynasty; tune on.
Why Isfahan?
Isfahan was selected by King Abbas I because it possessed plenty of Zayanderood water and also had geographical centrality in Iran.
Isfahan was located on the way of big trade roads of the past like Damascus and Aleppo in the west and Samarkand and Bukhara in the east.
In addition to this, providing economic (path), political (centrality), and agricultural conditions (Zayanderood water) in Isfahan caused this city to be selected as the provincial capital (in the Al-Ziyar period) and governmental capital (in the Seljuk period) in different eras.
In the Seljuk period, many artists came to Isfahan and built different buildings like mosques, caravansaries, bridges and etc in the old neighborhoods.
Although with Mongol's attack, Isfahan was also in ruin like other cities of Iran, the action of king Abbas within a few years, Isfahan reached its peak of greatness and made it as an international capital that messengers and traders from Europe and far east turn to it.
King Abbas I
King Abbas, I was famous "Abbas, the Great" was the fifth Safavid king and the most famous king of this dynasty. He was the son and successor of King Mohammad Khodabandeh and ruled for more than 41 years in Iran until his death.
King Abbas, I liked architecture, music, drawing, and poem.
Naghshe Jahan square, Ali Qapu, parts of Chehel Sotoun mansion, Chahar Bagh, and Si- O-Se Pol Bridge are some of his reign's remaining works.
The name of Isfahan was always accompanied by the name of king Abbas I. most of the historical and architectural works like :
reservoirs,
streams (Maddi)
bridges
streets
promenades
palaces
mosques
schools
temples
bazaars
gardens
squares
are being recorded in the name of king Abbas I.
When King Abbas came to the throne, the west, and northwest of Iran were in possession of the Ottoman government.
The tribal grouping of Ghezelbash was formed in an incremental way and the duality among Ghezelbash Turkman and Tajiks was increased in the court.
As a result of this disunity, each of the government officials was thought of their benefits and power; so the country was in chaos.
King Abbas, I could reach the Safavid dynasty to the peak of strength by prioritizing different issues.
After the victory of king Abbas over Uzbekistan in 1598/ 1017, he transferred his capital from Ghazvin to Isfahan which was one of the most beautiful cities in the world.
From the south of the city, a highway was entered that it pass through gardens and palaces which were famous to "Hezar Jerib" that many nobles were inhabited there.
More about Safavid Dynasty
Safavid dynasty ruled over Iran for 235 years. The founder of this dynasty was King Ismail Safavid that crowned in Tabriz.
The last Safavid king was King Sultan Hussein that assigned governance to Afghans and then, Nader Shah Afshar took governance from Safavid.
Safavid governance was the first centralized government in Iran and that was formed after Sassanid.
After entering Islam Iran, many governments were formed in Iran, but no one could dominate the whole geography of Iran and form a centralized government, except King Abbas I.
Spectacular places that were remained from Safavid Dynasty:
The spectacular places of the Safavid period were almost located in Isfahan city, the capital of this dynasty.
The remained works of this period are a lot, but here we investigate the most famous ones.
1- Khaju Bridge:
It is considered as the most important remained work of the Safavid period that is being famous for the names "Rokn Aldin Bridge" and "Hassan Beik Bridge".
The time of building Khajoo Bridge was in 1060 A.H and was built by Shah Abbas Safavid
2- Si-O-Se pol:
It is one of the most important attractions of Isfahan city that its building was started in 1008 A.H.
Ali Qapu palace: this building was built in the period of king Abbas I and completed in the reign of king Abbas II. This place illustrates the architecture art of the Safavid period.
its building was started in 980 A.H. This mosque was nominated with the name of "Sheikh Lotf Allah Jebel Amel" who was one of the scholars of Safavid. Sheikh Loft Allah Mosque is the architectural masterpiece of the 11th century.
4- Hakim Mosque:
it was the Safavid capital. This mosque was built in the period of king Abbas II by Hakim Davood that was famous by Tagharrob Khan.
it was built in the period of king Abbas I. this mansion was built among a garden and then, completed in the era of King Abbas I.
6- Naghshe Jahan square: it is one of the buildings of Safavid period.
7- Qeysarie Gate:
it is considered a national work. In the past, the entrance path to Isfahan bazaar was from Qeysarie gate.
it was built in the time of king Abbas II. When King Abbas was returning to Iran, he saw Armenians in the city and villages on his way and brought them to the country and settled them in Jolfa city.
After their settlement in Jolfa city, they began a new life there. He built Vank cathedral at that time.
9- Hasht Behesht palace: this building was built in 1080 A.H and in the period of King Suleiman.
FAQ
Which period was the peak of the political power for Safavid?
During the period of King Abbas Safavid
Which particular places remained from the Safavid dynasty?
Si-o-se pol, Vank cathedral, Sheikh Lotf Allah Mosque, etc.
Which city was the capital of Safavid prior to Isfahan?
Conclusion
Safavid was one of the important historical dynasties of Iran. This government could make an integrated and focused Iran after 900 years.
In this period, many architectural works were built that show the Safavid government's grace.
After king Abbas, Safavid dynasty became weak and finally, in the period of king Sultan Hossein, it was destroyed due to the weakness of government's bases and also foreign attack.
Did you ever visit Safavid monuments? Which feature of this dynasty was so interesting for you? Share your comments with us…