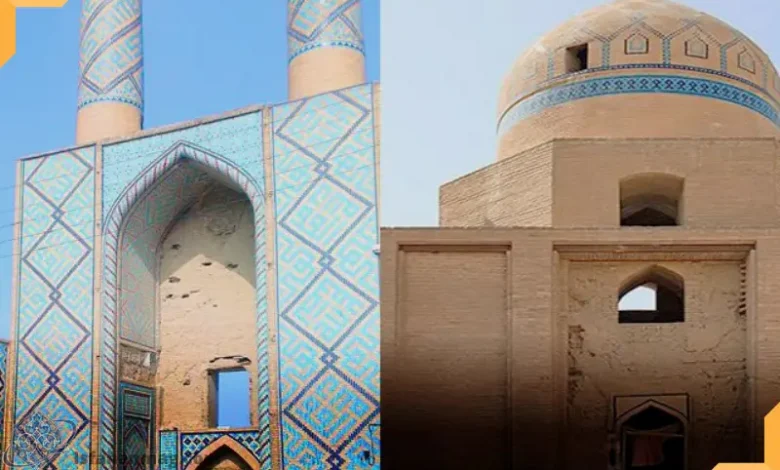 Dardasht Minarets and Sultan Bakht- Aqa Tomb are among the historical places in Isfahan.
With hearing the name of the minaret, surely the first name that comes to your mind is Monar Jonban, but Isfahan has many other historical minarets that maybe not be as famous as Monar jonban, but historically, has long antiquity like Dardasht Minarets. In this article, we are going to talk about Dardasht Minarets and Sultan Bakht- Aqa Tomb; tune on.
A short history of Dardasht Minarets and Sultan Bakht- Aqa Tomb
Sultan Bakht- Aqa Tomb is located in the Dardasht neighborhood and besides famous minarets of Dardasht.
This historical monument belongs to Sultan Bakht- Aqa, the daughter of Kei-khosro Inju. Sultan Bakht Aqa decided to revenge from Al- the Muzaffar dynasty after his uncle, King Sheikh Abou Eshagh get killed.
After marriage to Sultan Mohammad Al- Muzaffar, she entered his administration and transformed into one of the favorite women of king, but Sultan Mahmoud discovers his wife's intention and commands her murder.
A tomb was being built for this woman that has spiritual importance in view of people and it was very holy. Isfahan people lit a candle on the Sultan Bakht Aqa tomb.
The architecture of Dardasht Minarets and Sultan Bakht- Aqa Tomb
The exterior view of the tomb consists of multi-dimensional brick and double- a glazing dome is placed on top of it. On top of the dome, a brief tiling with the colors blue and turquoise can be seen.
On the inside of the tomb, there aren't any special decorations, and the gravestone of the tomb is located in the center of the grave with the high-grade, sumac-color stone.
On the gravestone, the name of the deceased and his death date is engraved in the Arabic language showing the year 769 A.H.
It seems that this monument had decorations that were being destroyed over a tie or get hidden under the layer of plaster. Still, paintings can be seen under the plaster layers.
This tomb is being placed beside two tall and pretty minarets and a tiled façade that seems it belonged to a vast complex that today there isn't any remained from it.
Minarets with a height of 8 meters have turquoise and dark-blue tilings that displays God's names with the Kufic script.
The façade is also decorated with very beautiful and elegant tilings and inscriptions of holy phrases.
The tomb is totally stuck to the façade and minaret and it seems that the total complex of minarets and façade, along with the vast building of monuments were all built under the supervision of Sultan Bakht- Aqa and even, she ordered her tombstone years before death.
Poem of Hafez about Sultan Bakht- Aqa
Sultan Bakht- Aqa lived in the era of Hafez and he reminded her in one of his couplets:
Rasti khatam firouze Bou- eshaghi Khosh derakhshid vali
Dollat Mostaajal boud
Address Geographical position and antiquity of Dardasht Minarets and Sultan Bakht- Aqa Tomb:
Address: Isfahan, Ebne Sina Street, Dardasht arcade, Dardasht Quarter
Geographical Position:
In terms of geographical position, this place is located near the centers like Tolue Khorshid traditional hotel, Setare Hotel, the private hospital of Zahraye Marziye, and Amin Hospital.
Antiquity: 7th and 8th century.
Unauthorized drilling with the motive of treasure hunting in Sultan Bakht- Agha Tomb
Sultan Bakht- Agha Tomb is located in the oldest neighborhoods of Isfahan city for about hundreds of years.
This monument is one of the most important attractions of the tourism axis of Isfahan prior Safavid era, meaning Atigh square, Abbasi grand mosque, and the Joubare neighborhood.
Now, strange news is heard from this building that the thieves with advanced tools went the inside of this building and had the intention of greed.
Sultan Bakht – Agha is considered an endowment work and it's at the disposal of the Endowment Office; the issue of thievery is not true and in fact, unauthorized drilling is being done.
We should look for the cultural roots of this event in the society that its cultural heritage spent hundreds of years without any custodian, but today with all the arrangements that are being thought, this problem exists.
The treasure maps in the decade of 60 and 70 became a calamity for cultural heritage and everyone with any paper that had, destroyed the valuable monuments with the motive of finding treasure, but it seems that this issue continues and this time, the profiteers want to find treasure at a monument in the heart of Isfahan city.
Preservation of historical monuments, minarets, tombs, etc in Isfahan
Preservation means culturalization and all the organizations and entities should try for it.
Imagine that cultural heritage should do the physical preservation from all the historical buildings is not possible with existing sources and if even the most sources are given to cultural heritage, it is not possible.
Nowhere in the world, doesn't this event happen that just one organization be responsible for the preservation of historical and valuable buildings?
When there are 25000 buildings and monuments in Isfahan that have historical and cultural value, for physical preservation from this number of works, a military should be provided for the cultural heritage.
Preservation is a public matter; some of the buildings are in the high grades of preservation and the conservation body of cultural heritage is being directly residing there and supervises and protects them.
Some of the other historical monuments are there at the province level that has a private owner or they are endowments or under the possession of organs like municipalities.
FAQ
Which centuries do Dardasht Minarets and Sultan Bakht Aqa belong to?
Which poet lived in the period of Sultan Bakht- Aqa?
Who did Sultan Bakht- Aqa marry?
Sultan Mohammad Al- Muzaffar,
Which monument was built under the supervision of Sultan Bakht- Aqa?
The total complex of minarets and façades, along with the vast building of monuments.
Conclusion
Isfahan province has hundreds of natural attractions, more than 22000 historical monuments, and works, and about 1850 national registered cases 7 works of it have a world record and are known as the world heritage of UNESCO.
Dardasht Minarets and Sultan Bakht- Aqa Tomb is one of the places that you shouldn't miss; although the statistics show that many Isfahan people didn't visit it even once.
Have you ever visited Dardasht Minarets and Sultan Bakht- Aqa Tomb? Did you enjoy its historical space? Share your comments with us…