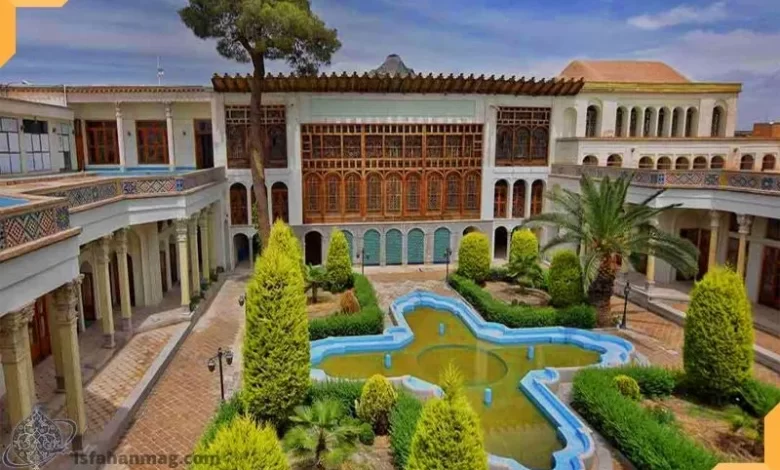 Vasigh Ansari House and Kianpour Historical House are both considered Isfahan historical attractions.
Isfahan, half of the world, is one of the most beautiful tourist destinations in Iran there are many architectural masterpieces in it.
In this article, we are going to compare Vasigh Ansari House with Kianpour Historical House; to achieve this goal, first, we should gain information about each of these historical houses; tune on.
About Vasigh Ansari House
Vasigh Ansari house has 150 years of antiquity and was being built by the command of one of the elders of the Vasigh Ansari family and the chairman of the court's state accountants that was the ruler of Isfahan for a while.
Colonel Vasigh Ansari's house is a three-decker building.
The antiquity of the Vasigh Ansari house is returning to the Qajar period.
This historical house is being registered as the national monument of Iran in Azar, 1354.
The entrance of this historical house is placed on the southwest side of it; a place where there was a corridor in opposite direction from the entrance side so that strangers couldn't see the internal spaces of the house. After passing from the corridor, you will reach to the beautiful yard of Ansari's house.
Vasigh Ansari's house consists of one hall with two squinches on both sides of it.
The ceiling and walls decorated with paintings and gilt, the cross-shaped hall (alcove) with elegant pocket head window (Orsi) and wallpaper in the alcove view are among the attractions of this historical house of Isfahan.
The highest part of the house is the surrounding space of the spring house on the northeast side that reaches three floors and the last floor's windows create light dance are completing the pretty picture of this house.
Facilities and services
Vasigh Ansari House doesn't have a public visit; therefore, the public facilities and services are not being provided in this historical house.
Geographical position
Vasigh Ansari's house is located in Kohne square, Harouniye Street, and the alley of Moshir's bathroom.
About Kianpour Historical House
Residence information
Kianpour Historical House is narrating the original culture and art of Iranian and it is related to the governance period of Qajar that was being built in the most beautiful and eye-catching possible way.
Kianpour Historical House with a reception and accommodation capacity of 22 tourists has 6 doors of the suit with traditional architecture and modern facilities equipped with:
bedroom service
TV
refrigerator
free internet
Iranian toilet
Foreign bathroom.
This traditional hotel was being reconstructed considering the principles and preservation of Iranian original architecture in 1393 and became the residence of many tourists.
Facilities and services
For the sake of greater well-being and satisfaction of tourists and guests of this traditional residence,
many well-being services are being provided in this residence:
dedicated uncovered parking,
personnel fluent in the English language,
tourist tours guidance,
heating devices like blankets,
free internet,
boarding housekeeping,
taxi service,
easy and fast access to historical monuments,
cold and hot separated systems and
Iranian and foreign bathrooms.
You, dear tourists, can order different kinds of official Iranian and local tasty foods with residence in this house.
Geographical position
Kianpour Historical House is located in Chahar Bagh Paeen Street of Isfahan city and because of its special position, has a short distance from spectacular tourist attractions.
Tourist attractions of region
Naghshe Jahan square is located in the center of Isfahan city and in the historical complex of Naghshe Jahan.
It is the most spectacular attraction of this city that attracts many people from inside and outside of the country.
Si-O-Se pol is a beautiful bridge that is a sign of Anahita is being considered as the architectural masterpieces of the Safavid period and one of the most famous historical bridges of the country that is located in Enghelab street and it's a place for traditional ceremony of Ab Bashan in the past that was being held in 13th of Tir.
Chehel Sotoun palace, Chahar Bagh School, Hasht Behesht palace, bird's garden, Jonban minaret, and Chahar Bagh Abbasi are the other spectacular attractions of this authentic city.
Rules of residence
Providing valid confidentiality documents is essential in the reception time
Reception of pets is not legal; if needed, arrange with support.
What distinguishes Vasigh Ansari house in comparison with other Isfahan historical houses?
The vast application of cloth and wallpaper in decorating the alcove and its adjoining room on the west side of this house that with more than 45 diverse designs and patterns that are in different dimensions and sizes; so, Vasigh Ansari house is a significant house.
Which one do you select? Vasigh Ansari House or Kianpour Historical House?
Selection among Vasigh Ansari House or Kianpour Historical House depends on many factors like:
Do you travel alone or with your family?
Do you want to reside in a historical house?
Would you like to visit historic houses and also eat something there?
When you answer such questions, you can easily select between Vasigh Ansari House and Kianpour Historical House.
If you prefer to reside in a historical house, which is providing different facilities, surely Kianpoor historical house is a good choice,
because Vasigh Ansari's house is a private house and as we said earlier, it doesn't have a public visit.
FAQ
Which period does Vasigh Ansari house belongs to?
Which city does Kianpour historical house is being located?
Chahar Bagh Paeen Street.
Which historical house doesn't have the public visit?
Vasigh Ansari historical house.
How much is the reception and accommodation capacity of the Kianpour historical house?
Conclusion
Isfahan city is the most popular travel destination among internal and external tourists.
Historical houses of Vasigh Ansari and Kianpour are displaying originality, authentic history, and the grace of Isfahan in previous governances; they are among spectacular places that have special decorations like:
mirror-working
gild working
pretty drawings
etc.
Selecting between Vasigh Ansari House and Kianpour Historical House is not easy, but according to the information that we provided in this article, you can select the one that is the best choice considering your situation and needs.
Each of these historic houses is so magnificent and beautiful that immediately attracts you.
Have you ever visited Vasigh Ansari House or Kianpour Historical House?
Which one do you like more? Why you prefer it? Share your comments with us…