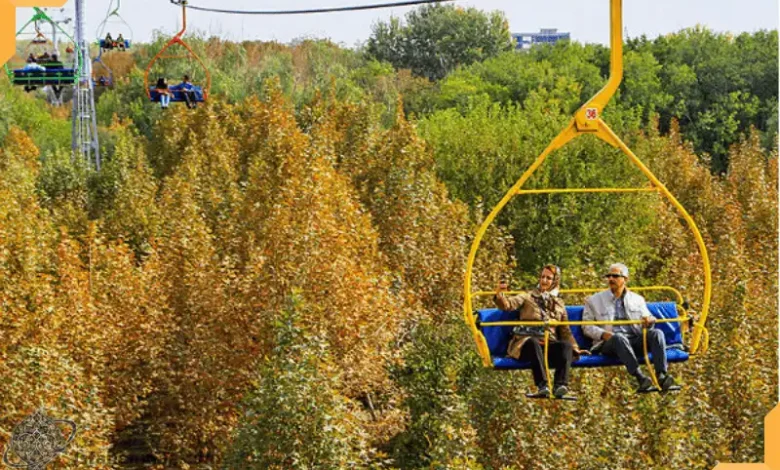 Isfahan Nazhvan Park is one of the special and spectacular attractions of this city, which may not be as popular as the Garden of Eden and the historical mansions of this city, but almost most travelers visit it when traveling to Isfahan.
In this article, we want to take you on a tour of Nazhvan Forest Park in Isfahan.
What does Najwan mean?
The word Nazhvan is a combination of the two words "Nazh" and "Van". Naj or Najo is a plant of the poplar family and the second component, "Van", is an extension to describe the place, with this account, Nazhvan can be interpreted as follows: the place where Nazhvan grows or the place where Naj and poplar trees grow!
The people of Isfahan call Nazhvan Forest Park by several names, two of the most common of which are Nazhvan and Nazhvan.
Why visit Nazhvan Park?
If you are interested in nature, you should visit Nazhvan Park in Isfahan among the sightseeing and sightseeing of the historical attractions of Isfahan.
Of course, not only because of its bird garden but also because of the 55,000-meter garden space and watching the river route!
In addition, there are other entertainments in this complex, among which we can mention Nazhvan Park, and Trap Sage.
The route of this trap passes over Zayandehrood and gives you a beautiful view of the city of Isfahan that you must try.
This promenade is one of the green and fertile points along the Zayandeh River and is the source of most of the materials of Isfahan from this region.
Nazhvan Forest Park facilities
Nazhvan Park has an area of ​​1200 hectares. There are all kinds of attractive recreational and welfare facilities in this large park that make recreation and excursions more enjoyable.
The dense forests of the forest make it a scenic place for hiking. There are beautiful bridges over the river that are great for walking.
Cycling can also be done in this large park and its built-in areas. The possibility of boating and walking in the river water is another special attraction of this area.
Many people are not able to go boating on a river. This activity is usually done in artificial lakes. But this river is a great space for boating.
In this garden, spaces such as:
cable cars
sports fields
swimming pools
camping
children's playgrounds
carriage stations
horseback riding,
boating
cycling areas
are provided and can be used by the public.
Bird gardens, aquariums, reptile gardens, butterfly museum gardens, and oyster museums are also located in this area, which you can also visit.
Najwan Park sights?
1- Butterfly Museum Garden
There is a colorful butterfly garden in this forest park. This garden with an area of 2,000 square meters has accommodated 100 types of plants.
Shrubs of Ferdows, Sikas, Linda, and various plants of Benjamin, Ficus, and…… ‌ are grown in this garden.
There are 48 frames containing different and beautiful butterflies in this garden.
The number of these butterflies is 2200.
2- Aquarium in Nazhvan Forest Park
There is the first and largest aquarium in the country in this forest park. This aquarium is built on a land with an area of 3500 square meters.
There is a tunnel in this aquarium which is 30 meters. There are several smaller aquariums in the complex.
There are different aquatic species from salt and fresh water and from different parts of the world in Nazhvan aquarium.
3- Bird Garden
In this complex, there is a beautiful and large garden called Bird Garden.
This large garden has an area of 55,000 square meters.
The atmosphere of this garden is so beautiful that it is unique in the whole country.
This garden meets the ecological needs of birds. There are about 3500 birds of 200 different species in this garden.
4- Tele Sage
One of the exciting pastimes in Nazhvan Forest Park is Tale Sage. You can sit coolly in this device and walk a long distance through the pristine and soulful nature.
This cable car is 1925 meters long and has enough capacity for 180 people (60 seats for 3 people).
Sitting on a Tele Sage chair 24 meters above the ground and walking through the trees is a fascinating experience that will leave you with fond memories.
The first station of Isfahan Nazhvan Tele Sage is located at the beginning of Ulfat Road and the second station is located near the Bird Garden.
5- Museum of oysters
The oyster collection in Nazhvan Park contains 2,000 specimens of oysters and marine animals.
The collection depicts 800 different species and is a spectacular museum.
A variety of sea and land mollusks, saltwater crabs, and echinoderms from around the of species world have been collected and exhibited in this museum.
6- Reptile Garden
There is a unique and different complex in Nazhvan Forest Park. This collection includes several large and small vivariums.
A variety of reptile species such as snakes, lizards, crocodiles, and…… are kept in it. These reptiles are of toxic, non-toxic, and semi-toxic types.
Nazhvan Forest Park Amusement Park
Nazhvan Park amusement park has created a happy and loving atmosphere for dear children.
There are fascinating and exciting entertainments such as karting, multi-dimensional cinema, inflatable park and… in this amusement park.
Working hours of Nazhvan Park in Isfahan
Nazhvan neighborhood welcomes loved ones who walk in this park 24 hours a day.
People who like to visit the Bird Garden and the Butterfly Garden can visit from 8:30 to 18:30. The Reptile Garden and the oyster museum are open from 8:30 to 21:00.
Also, the aquarium is open from 8 am to 10 pm and the amusement park is open from 10 am to 10 pm. Tele sage entertainment complex is also open from 10:00 to 19:00.
Ticket prices for Nazhvan Park in Isfahan are different in each of its recreational areas. But don't worry!
Where is the address of Nazhvan Forest Park?
The address of Nazhvan Forest Park in Isfahan is as follows: Isfahan, Shahid Habibollahi Highway, Suhrawardi Square, Ulfat Street
How to get to Najwan?
Nazhvan Park is located in the western parts of Isfahan.
To reach it, you have to go from Shahid Habibollahi Highway to A Street, cross Vahid Bridge at the edge of Nazhvan Park, and go to the Simin intersection.
Before reaching Suhrawardi Street, which the locals call Simin Street, you will enter Nazhvan Park from the right after the square.
In this article, you get acquainted with the sights of Nazhvan Park in Isfahan.
Thank you for joining us. If you have any memories of this beautiful park, share them with us and your friends.