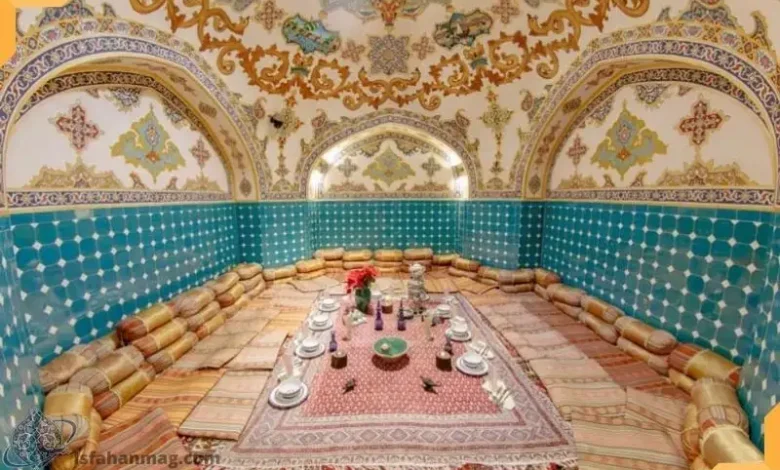 What is Isfahan famous for? To its Gaz, pretty handicrafts, beautiful and eternal historical monuments? Yes! Of course, all of these cases make Isfahan desirable and attractive.
But in addition to these, there are tasty foods and better of all, Beryani of Isfahan attracts thousands of passengers and tourists yearly.
That's of the high number of Iranian and foreign tourists that this city has the best foods and restaurants in the country.
In this article, we are going to become familiar with the best restaurants of Isfahan, different kinds of foods and different styles of decor; hang on!
1. Shahrzad Restaurant; a restaurant with a nostalgic atmosphere
Shahrzad is one of the best restaurants of Isfahan that is providing services to customers since 40s AH.
This restaurant is known as the best restaurant in Isfahan for two reasons; one is the high quality of food and services and the other is its old and beautiful decor of it.
You can order one of the most original and tastiest desserts of Isfahan, which means "Khoresht Mast". In addition to this dessert, special Beryani which is the main lunch of Isfahani people in the holidays is also served in this restaurant with the best quality.
The décor of Shahrzad Restaurant is a pretty combination of colourful mirrors and wall paintings, which are old and authentic. Shahrzad is 50 years old.
Address: Chahar Bagh Abbasi Street, Abbas Abad Street
2, Beryani-e Azam Restaurant
the experience of a 400 years old food in the 100 years old restaurant
Beryani is being cooked in Isfahan for 400 years. This food is one of the most famous foods of this city and Beryani-e Azam is one of the best restaurants that you can eat it there.
This restaurant was opened in 1295. The main feature of this restaurant is that you can order Biryani and Abgousht-e Beryani (the broth of Beryani) with local dough.
Abgousht-e Beryani is being served with the meat of Beryani and little pieces of bread in it. This restaurant has 4 branches.
The address of its first branch: Dollat Gateway, beginning of below Chahar Bagh
3. Naghshe-e Jahan Restaurant
The joy of eating food near the most beautiful square in Isfahan
The first place that you should see in Isfahan city is the Naghshe Jahan Square.
The traditional restaurant of Naghshe Jahan is located around this square and it is considered one of the most beautiful and the biggest dining hall in Isfahan.
If you want to eat great food for a special occasion or invite your foreign guests to the most complete case of Iranian space and food, Naghshe Jahan restaurant is one of the best restaurants in Isfahan that you can choose.
By sitting on the terrace of the restaurant, you can imagine that you are inside of the square; because you have complete control of the Naghshe Jahan Square.
Certainly, ordering traditional foods of Isfahan are good choices, but regular customers like to order different kinds of kebabs, like chicken barbecue and Shishlik (Skewered dish).
Address: Imam square, corner of Sheikh Lotf Allah mosque
4. Jarchi Bashi restaurant
The experience of eating food in the bathroom
Yes! Don't be surprised. The building of this restaurant was a local bath that was built in the Safavid period and about 1019 AH.
"Haj Seyed Ahmad Eftekhari" did the rebuilding of this historical building and also changed it into a restaurant and banquet hall.
When you enter this restaurant, you face such a landscape that takes some minutes to digest all the pretty angles of this restaurant.
After you pay attention to the décor, tiling and the elegance of the restaurant, you see that you can order Iranian traditional foods like Shirin Polo and Mersaa Polo.
Of course, the Kebab Koobideh of Jarchi Bashi has many advocates among regular customers.
Address: Sepah Street, Hakim Street, seventh alley or Bagh-e Ghalandarha Alley
5. Toranj Restaurant;
A historical house that is changed into a restaurant
Toranj restaurant or the complex of Houans restaurant is one of the best restaurants of Isfahan that is located in the neighbourhood of Jolfa.
Initially, this restaurant was a historical house that was located beside the historical church of Hours.
This old house has a unique architecture that was built in two parts; the western part of this house is older and the eastern part was added to it later.
This complex has a restaurant, and café shop that is located in Shah Neshin (Alcove) and Sharbat Khane which was located in the Sard Ab.
Address: Khaghani street, Houans Shirazi ally, Ramin alley, Houans house (Toranj)
6. Khan Gostar Restaurant;
Modern space and unforgettable food
As a passenger, perhaps your way reaches Vank cathedral and the Jolfa neighbourhood. One of the best restaurants that are located in this neighbourhood is the Khan Gostar restaurant on the ground floor of the Jolfa hotel.
When you go to Khan Gostar restaurant, the first thing that attracts your attention is the sedative blue and azure décor of the restaurant. Among the tasty foods on the menu, "Chicken Tahchin" has more popularity.
Address: Vank Cathedral Street, next to the Vank cathedral
7. Ghasre Monshi Restaurant;
The antiquity of the traditional restaurant of Ghasre Monshi returns to the Qajar period. In the past, it was the living place of one of the ministers of Qajar kings.
After rebuilding Ghasre Monshi's house, this building changed into a hotel and restaurant of Ghasre Monshi.
If you are looking to eat food in a historical place and pretty and stunning space, don't forget the restaurant of Ghasre Monshi.
The high quality of the food in this restaurant could attract the attention of Iranian passengers and foreign tourists; so the luxury restaurant of Ghasre Monshi became one of the best restaurants in half of the world.
This restaurant doesn't get unaware of vegetarians and also puts vegetarian foods on its menu.
Address: Neshat Street, western Ghasre Monshi alley
FAQ
1. Which traditional food is the main lunch of Isfahani people in the holidays?
2. How many years that Beryani is being cooked in Isfahan?
3. Who done the rebuilding of Jarchi Bashi restaurant?
Haj Seyed Ahmad Eftekhari
Conclusion
Surely Isfahan has gathered the half of the world's history in it; in each alley and street that we walk, there is a house with more than 100 years of antiquity that has a story or history in its heart.
Many of these houses are available to the public in the form of cafés and restaurants. That's why eating in these restaurants is business and pleasure combined.
If you live in Isfahan or you have been selected Isfahan for your trip destination, you can consider this list of the best restaurants in Isfahan and make smarter choices for your meals.
Did you ever go to one of the restaurants of Isfahan? Did you have a good time there? Which foods did you order? Did you try Beryani? Khoresht Mast? Share your views with Isfahanmag…