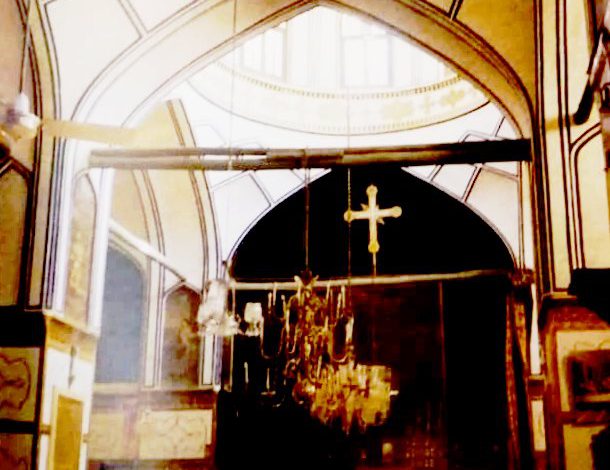 Surp Minas Church was built in 1659 in the Tabriz neighborhood and with the efforts of Armenians who immigrated to this city. They also built the Church of the Holy Mother in 1655 while settling in the Shams Abad neighborhood of Isfahan, and after migrating to Julfa, they also built the Church of the Holy Minas.
Surp Minas Church
The complex has two entrances, both on the west side and close to each other. The main entrance leads directly to the courtyard. On the south and west sides of this courtyard, there are many rooms located along the sidewalls and open to the courtyard.
These rooms were the residence of the priest and the service rooms. The second entrance leads through a small service courtyard to the courtyard where the meeting room and other service rooms are located. One of the striking features of this complex is the presence of the shrine of the Holy Mother, which is located at the end of the main courtyard.
This shrine, which was built in 1713 near the eastern side of the perimeter wall, has very delicate brickwork and two rooms have been installed on both sides. This place as a summer shrine includes a small covered space and an altar where religious ceremonies were held outdoors.
Surp Minas Church forms the northeastern part of the complex. The church has a rectangular plan and four entrances: three entrances on the south wall and one entrance on the west wall, which is reserved for women, and there are two rooms on both sides.
The interior of the church is majestic and its rectangular space is divided by four large columns with an octagonal stem and a spherical dome. Later, the church was made entirely of brick, with a small two-story bell tower, frescoes, and decorations dating back to the Safavid period that irregularly covered the interior walls, as well as a strip. Decoration can be seen around the sidewalls of the altar and corridors. The church has been rebuilt and renovated several times, most notably in 1827, 1853, and 1909.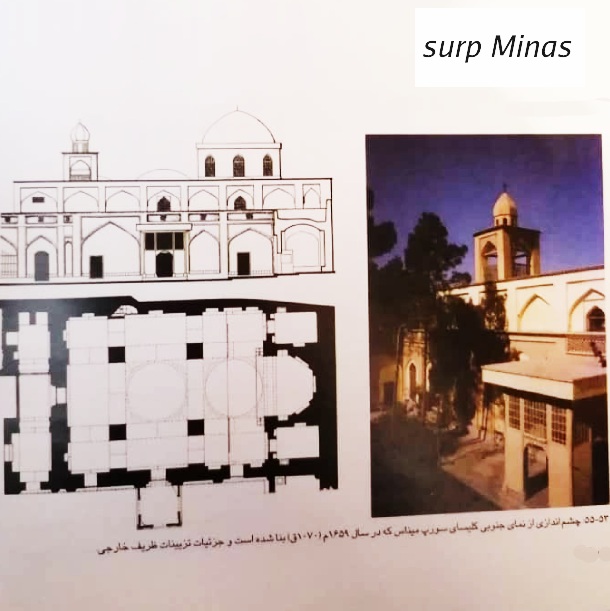 View of the south façade of Surp Minas Church, built-in 1659, and details of exquisite exterior decorations.
The interior space towards the altar and space inside the dome of Surp Minas church
The church has been renovated many times: 1827, 1853, and following these renovations, the original form of interior decoration, except for the dome, has changed.
The general plan of Surp Minas Church
Main entrance
Sub-input
The main yard
The second yard
Priest's residence
"Summer Shrine" in memory of Surp Stepanos 1774
Church of Surp, Nicholas 1630
If you have an experience this Church, surely write it for us. Which part of the Church got you more amazed?