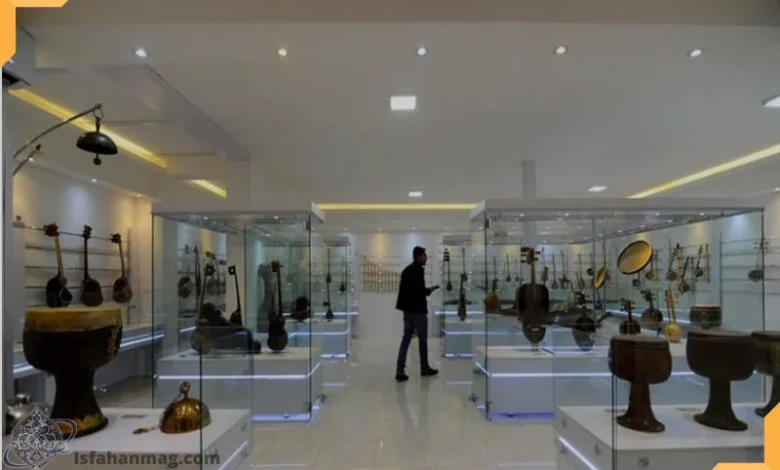 Today, "Isfahan Music Museum" is our selected destination; a place that among suggested attractions of the valid website of "Trip advice", had been placed in second grade and has achieved a total score of 5.
Tune on to introduce this spectacular museum and know about the working hours of Isfahan Music Museum and also become familiar with the address of the Music Museum.
Why Isfahan Music Museum?
– It is donating a unique and attractive experience of museum tour in Iran
– You can observe more than 300 Iranian instruments and enjoy the live performance of traditional music
– You can buy Iranian instruments from the store at the museum
– You can see musical instruments in this complex that you can't find like them in any country. 
Becoming familiar with Isfahan Music Museum
Isfahan is one of the cradles of music and Iranian traditional song and one of the music modals and also one of the quintet traditional songs of our country is being sung in the name of this city.
The importance of music and the interest of the Isfahan people in this art caused two-person of musicians who are interested to Iran's traditional music
It means Mehrdad Jeyhuni and Shahriar Shokrani established the first and the only private music museum in the country on the date of 11th of Azar, 1394; a museum that has many differences from other Iran museums and the model of work presentation, the kind of guidance, and behavior of employers in it, familiarizes you with a new dimension of the museum tour.
Also, the performance of live music at the end of the tour, makes your specific tour more attractive.
In Isfahan Music Museum, you can observe 300 Iranian instruments, gain information about the way of their composing and get familiar with playing of instruments with the guidance of visual and audio facilities and also listen to their voice.
Instruments that some of them are decorated with miniature designs and created an attractive set of color and sound. In this complex, you can see music instruments that you can't see like them in any country.
Different parts of Isfahan Music Museum:
In this part, we are going to investigate the different parts of museum:
1. National instruments hall
In the national instruments hall, you can visit different instruments that have been spread in the Iran's geographic area and also used in this regions.
Here, the instruments and different kinds of them are being introduced to you in two language of Persian and English and the visual- audio facilities of complex helps you to gain better experience of circuit in this hall.
2. Local instruments hall
Isfahan Music Museum has considered another hall for displaying of Iranian local instruments.
Along circuit in this hall with the guidance of museum officials, you can gain attractive information about Iran's local music and related instruments to each region.
Of course, the visual- audio facilities of the museum give this opportunity to listen to the music of Iran's local instruments.
3. Sar Ahangan hall
In Sar Ahangan hall, you can get familiar with prominent professors of Isfahan's music and gain information about their biography and the effect that they have put on the music of Isfahan.
4. Mousighi hall
The attractivity of visiting from Music Museum is not being sum up in observing different Iranian instruments and gain information about them, but you can enjoy from observing a live performance of Iranian traditional music at the end of your circuit.
5. Saz Sazi workshop
If you like to know how each of the famous Iranian instruments are being built and what structure and components they have, you can visit the Saz Sazi workshop at Music Museum.
Which instruments we can visit in Isfahan Music Museum?
In the Isfahan Music Museum, there are more than 300 instruments.
Among these instruments, we can refer to "Ghanoun instrument" that is considered as one of the oldest instruments of Iran and it is invented by Farabi.
Another instrument is a stringed instrument, named "Gheichak". Gheichak is a local instrument of southeast Iran, especially the Sistan and Baluchestan provinces.
"Chang" is another instrument that you became familiar with it in the Isfahan Music Museum that doesn't need any introduction, because they it is being assigned as the most famous and the oldest Iranian instrument.
"Tar" is also one of the existing instruments in the museum it is a kind of multi-national instrument because in the neighboring countries of Iran, playing this instrument is common.
Also, you can get familiar with the way of building this instrument, components, and the wood material that would be an attractive experience. Other instruments include:
Robat
Ney
Kamanche
Tombak
Santour
etc.
More information about Isfahan Music Museum
Address: Isfahan, Tohid Miyani Street, Shahid Ghanadi Street (Mehrdad), No.74
Suggested time of visit: 2 -5 hours
Working Hours: 9 a.m. to 21:00 p.m.
Number: 031- 36256912
Considering that this museum is one of the most important and the best-known spectacular works in Isfahan province, is one of the famous tourist places of Isfahan and you can easily access to it
You can access to this museum even by public transportations like bus.
Neighborhood with other famous attractions of Isfahan like Vank Cathedral, Saint Marry Church and Si-O -Se Pol caused the increase of visits and tourist traffics in this artistic museum and it is consider as a positive point.
The price of a ticket to the Isfahan Music Museum
The price of buying tickets of visiting this art museum along with observing live music performances is 15000 Toman for Iranian visitors and 50000 Toman for foreign visitors and citizens.
All the musical instruments showed in this artistic museum are in the form of donations and it is donated to the museum from fans and lovers of this traditional art.
It is worth mentioning that this museum has gained all the factors and parameters in high level and near the great in tourism investigations and surveys and it is considered one of the popular attractions in the opinion of internal and foreign tourists.
We suggest that put visiting this beautiful and artistic museum in your trip program to Isfahan and enjoy the performance of live music in this museum. 
Which hotels are located near the Isfahan Music Museum for reside?
– Jolfa Hotel: 550 m
– Modarres Hotel: 1.2 Km
– Karoun Hotel: 1.7 Km
– Parsian-e Kowsar Hotel: 1.9 Km
– Chehel Panjereh Hotel: 2.1 Km
Which restaurants and dining halls are located near Isfahan Music Museum?
– Ark A Restaurant: 700 m
– Saffeh Restaurant: 700 m
– Toranj Restaurant: 1 km
– Milan Restaurant: 2.1 km
– Shahrzad Restaurant: 3.2 km
FAQ
1. Which website had been suggested Isfahan Music Museum as an attraction?
2. Who established the first and the only private music museum of the Iran?
Mehrdad Jeyhuni and Shahriar Shokrani.
3. Who invented Ghanoun instrument?
Conclusion
There's a reason that Isfahan is being called "half of the world".
This city placed half of Iran's historical memory in itself and from the view of historical monuments and culture, it is considered as an impartible component of Iran.
Isfahan is the cradle of Iranian traditional music.
If you want to buy an airplane ticket to Isfahan, it's interesting to know that in the old music of Iran, there was a position named Isfahan position (Magham).
Hence, the issue of music is so strong in this city. Isfahan Music Museum is a unique and exclusive museum. Isfahan Music Museum is the first private museum in Iran.
Have you ever visited Isfahan Music Museum? Which part of this museum was so interesting for you? Did you buy any instruments from the store? Share your comments with us…