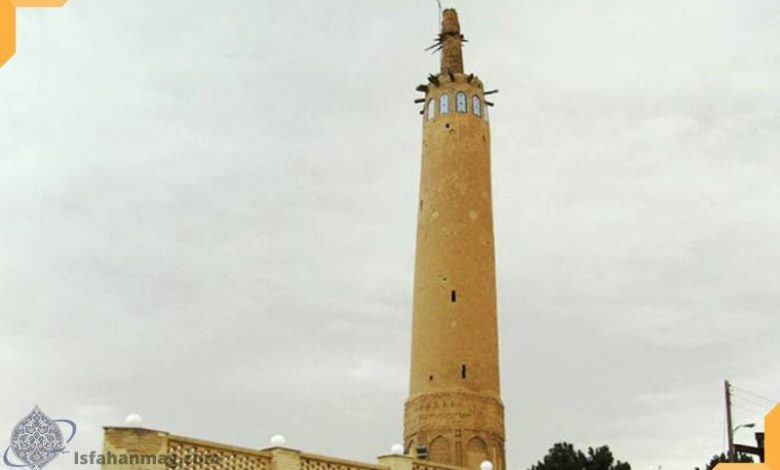 "Golpayegan Minaret" is one of the highest minarets of Iran with 900 years antiof quity. Golpayegan Minaret attracts many tourists from different regions for visit.
This minaret is considered as a valuable monument of Golpayegan city and also it is the national registered minaret of Isfahan. Join us to visit this historical minaret in Golpayegan city.
Where is Golpayegan?
Golpayegan is one of the historical cities of Iran that is located in the west of Isfahan city.
The name of this city has many narrations that may be among these, the story of "Homay", the daughter of Bahman Kiayee is more interesting than all.
It is said that Golpayegan is being built by Homay from Kiani dynasty and put the name of "Samareh" (the first name of Homay) on it. Of course, later, Homay changed the name of this city to Golbadgan or Gorbadgan.
Generally, Golpayegan has named "Gordbadgan" at first in the Persian language means "piedmont".
This city was famous as "Gordpadegan" at the beginning of the Sassanid and Islam period, but in the Arabic language, this name changed to "Jorbadkan" and then, the letters "R" and "D" changed to "L" and later, it transformed to "Golpayegan".
More about Golpayegan Minaret
Golpayegan Minaret is being built in the 5th century A.H. and it's famous for "Mill Golpayegan".
Golpayegan Minaret was considered the highest existing minaret in Iran at its construction time that was Seljuk dynasty and it could remain healthy in front of natural factors like earthquakes, wind, rain, cold and heat for about 9000 years.
In the past, this minaret was used as a desert lantern.
In such a way that a lamp was lit on the top of the minaret and this light was the guiding light of caravans. Considering that this minaret was located in the path of Abrisham road, this light helped the caravans.
Short History of Minaret Construction
Minaret comes from the root of "Nar" and means a defined place where the light was lit on it for the guidance of caravans at night.
Seljuk and Safavid liked this architectural construction and due to this, many minarets are being seen in the remained cities of these dynasties.
Even though, Minarets were narrow and tall constructions and apparently, didn't have enough stability, but considered lasting constructions in this period.
There are many reasons that minarets had such stability; like the kind of materials being used, the low area of the minaret's roof and as a result, lower penetration of snow and rain.
The form of minarets was numerous, but most of them were built in the form of cones and cylinders to have more resistance against earthquakes.
Of course, in addition to guidance minarets in between inter-city roads, the minarets were used in mosques.
Now, Isfahan with more than 17 registered minarets has the largest number of minarets and one of them is the Golpayegan minaret.
Minarets in Seljuk period
Golpayegan minaret was built in Seljuk period. The thing that all of the researchers agree on it, is that Seljuk minarets are a masterpiece in their own.
In the Seljuk period, the completion of brick decorations are being seen in facades, walls, covers, roofs, minarets and flooring.
The architecture were having skills in the way of laying bricks and creating brick cornices and inscriptions.
In the Seljuk period, using of Kufi script in brick decorations and simple primary knots in conjunction with the building structure were common; as what we see today in Golpayegan Minaret that simple knots are being observed in up and down of minaret.
Construction of Golpayegan minaret
Golpayegan minaret has two doors and a stairway is seen inside of it.
The height of the minaret is 18 meters. The down and up part of the minaret was ruined in a period of history, but these parts were restored later.
In these two parts, two inscriptions are being seen with the Kufi script there isn't any date in any of these inscriptions. On the inscriptions, the Quran verses are being seen.
The materials used in this minaret are the same as other remained minarets from the Seljuk period are built with brick and mud.
Which tourist attraction is located near Golpayegan minaret?
Chahar Sogh Bazaar.
When is the Best time to visit Golpayegan Minaret?
Many think that New Year festival is the best time to visit Golpayegan minaret.
Address of Golpayegan minaret
Imam Khomeini Street, Ayat Taleghani three way, in front of Fanous Park.
FAQ
Which century was the Golpayegan minaret built?
How many inscriptions does Golpayegan minaret has?
How high is Golpayegan Minaret?
Conclusion
Golpayegan Minaret which was built in the 5th century A.H. was like a lantern on the nights of Rah-e Abrisham.
In the past, the surrounding minaret was called "pa Monar" which was dusty and included several ditches.
Also, in front of this construction, there was a stony white lion in the past, this lion had a pair that got stolen.
Did you ever visit Golpayegan minaret? Did you see its inscriptions?
Have you read the poem which is written on it? Share your experiences with us…