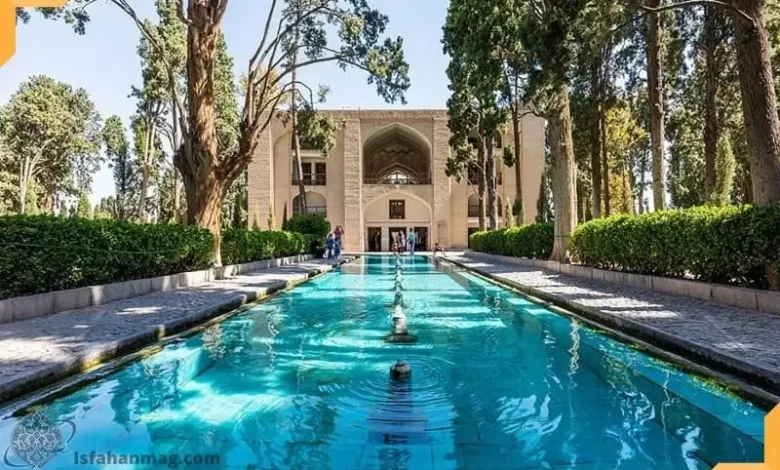 "Fin Garden Kashan" is one of the most famous and also the most important tourist attractions that is not only registered as national heritage but is also considered among 9 Iranian gardens on the World Heritage List.
Due to the existence of different fountains, pleasant voice of water, and towering trees, Fin Garden Kashan is considered a dreamy place for an excursion.
There are many historical monuments in this garden, but maybe one of the main reasons for the garden's popularity is the murder of "Amir Kabir".
In the following, we read more about Fin Garden Kashan.
Introduction of Fin Garden Kashan
Fin Garden is one of the spectacular places of Kashan due to the wall placement, cylindrical forts around the garden are so magnificent and royal therefore, it is titled "Shah Garden".
When you walk in this garden, in addition to attracting to its magical beauty, you'll face some centuries of history;
finally, you can go to the teahouse of the garden that is located in a pleasing space and it doubles the pleasure of this space.
One of the interesting things about this garden returns to the belief of some people that they believe their wishes come true by throwing a coin in the pool.
Although this work is considered a kind of entertainment, but the philosophy of throwing coins in water can be found in the Zoroaster religion that water is the embodiment of purity and its followers gave a part of their property to the goddess of water so that blessings enter their houses.
Address: Isfahan province, Kashan, Amir Kabir Street
A short history of Fin Garden Kashan
Fin region was considered by kings and governors, due to the existence of a spring that flows in it.
The antiquity of Fin Garden is not precisely known and hence, some attribute its building time to the period of Ardeshir Babakan;
but what is obvious is that the first time that Fin Garden was mentioned in historical resources is related to the time of Yaghoub Leis Saffari that talked about the existence of a spring and a garden in central deserts of Iran.
According to the historical resources, some experts considered the Buyid period as the time of Fin Garden's formation and some attribute it to the Ilkhanid period;
especially since Yaghout Hamavi, historian of 7th century A.H told about the excursion of Kashan's people in Fin gardens.
Fin Garden in Qajar Period
Most of the current monuments of Fin Garden is belongs to the period of King Fath Ali Qajar that was interested to Fin's garden and spring.
According to his command, in addition to building a little bathroom beside the Safavid bath, Shotorgaluy Palace was built beside Khalvat Karimkhani. You can find Shotorgaluy-e Fath Ali Shah in the southeast side of Fin garden.
King Mohamad commanded that this garden be repaired in 1256 A.H.
Building Badgir palace (current library), repairing the big and small bathrooms of the garden, and adding seven- colored and turquoise tiles are the other achievements of the Qajar period.
Read More: Abyaneh Village
Historical events of Fin Garden
Fin Garden Kashan has witnessed important events in the following that we refer to them in short:
King Ismael Safavid Ceremony
King Ismael Safavid went to Kashan at the beginning of his governance and held a public ceremony in Fin Garden.
Murdering of Khezr Nahavandi, The ruler of Kashan
Khezr Nahavandi came under assault by someone and was murdered. This event was a political murder that was done by the king's command.
According to a narration, King Saffi died due to the overconsumption of liquor.
After this, his 10 years old child was crowned in this garden.
"Mohammad Taghi Farahani" that was famous to Amir Kabir was the prime minister of King Naser Al-din and had an important role in Iran's prosperity and he did many services for this country.
He gets killed in the Fin Garden bathroom. This event caused seven days of public mourning in Kashan city.
Shelter of Nayeb Hossein Kashi
Nayeb Hossein Kashi and his friends were present in this place for 14 years which caused the destruction of some parts of this garden.
Finally, the central government arrested them and their capital punishment sentence was issued.
Builder of Fin Garden Kashan
Cultural heritage remembers Ghias Aldin Jamshid Kashani as the designer of Fin Garden Kashan, but some experts know Sheikh Bahai as the designer of this garden.
The architecture of Fin Garden Kashan
In the architecture of Fin garden, in addition to using dynamic elements like water and tree, fixed elements of architecture mean monuments are visible that all of these together have created a dreamy space.
About the passways of the garden, the linear axis of the garden is located in the middle of it and also from the northeast-southwest.
The east-west passway is one of the main passways of the garden that the national museum of Kashan and Amir Kabir's library are placed on both sides of it.
North-south passway is being started from the portal palace.
Existing monuments in Fin Garden:
Safavid Koushk
Sardar (portal) palace
Alcove room
Qajar Koushk
Zanane spring (teahouse)
Bathrooms of Fin Garden:
Kingdom bathroom
Safavid Bathroom
FAQ
What was the title of Fin Garden Kashan?
Can you name some of the monuments of Fin Garden Kashan?
Safavid Koushk, Alcove room, etc.
Who was the builder of Fin Garden Kashan according to Cultural heritage?
Ghias Aldin Jamshid Kashani.
Conclusion
Fin Garden Kashan is full of mysteries and beauties. In the initial design of Fin garden, maintaining symmetry was so important, but this issue had been evaded.
Visit this place and enjoy this garden's space.
Have you ever visited Fin Garden Kashan? Which part of it was more interesting for you? Did you like its spring? Share your experiences with us…