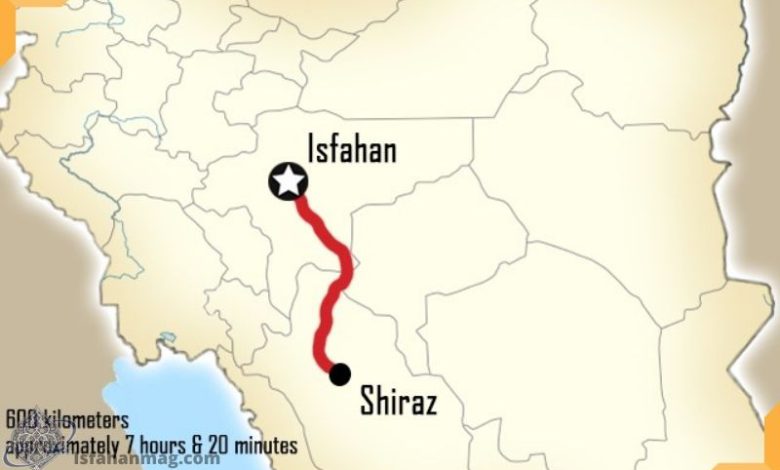 Iran is home to many cities, each of which, in turn, is host to its collection of breathtakingly gorgeous and alluring tourist attractions and destinations.
Among these cities, we can highlight the major cities of Isfahan and Shiraz. These towns are located in Iran and are known for their stunning beauty and abundance of breathtaking attractions.
As a result, a large number of travelers visit both Isfahan and Shiraz on an annual basis and take pleasure in exploring their respective tourist destinations.
In this essay, we will take you on a journey to Isfahan and Shiraz to familiarize you with both of them and understand that Isfahan or Shiraz?!
Therefore, we would appreciate it if you could accompany us on this journey about Isfahan or Shiraz?!
Isfahan or Shiraz?!
When traveling to ancient domestic cities, many people are undecided between going to Shiraz or Isfahan.
Tourists must carefully consider which city will provide them with the most opportunities for fun and amusement and how they will get to that city.
· Visit Isfahan, located in the middle of the globe & Shiraz and its extraordinary location.
· Isfahan:
Isfahan is sometimes referred to as "Nesf-E-Jahan" because, in addition to its many stunning natural features, the city is home to more than 5,000 historical landmarks that are at least a few thousand years old.
So, we invite you to join us if you have decided to go on an Isfahan tour; we guarantee that you will find this valuable data throughout your time in Isfahan.
This page discusses Isfahan's tourist attractions and entertainment venues and the towns and villages that make up this historical city.
· Shiraz:
We believe that this statement from Hafez Shirazi is sufficient for us to shut the weight of traveling and go for a few days to the region of lovers, Shiraz.
Many people consider Shiraz the most beautiful of Iran's cities. They are popular with tourists and the city of love. Join us on this trip if you decide that Shiraz is the destination for your vacation.
Famous poets like Saadi and Hafez were born in Shiraz and contributed to the city's reputation as the "city of loves."
Shiraz's natural scenery and historical landmarks are both breathtaking in their ways. Because of the welcoming and kind nature of the local population, your time in Shiraz is guaranteed to be one of your most memorable vacations.
Isfahan or Shiraz: Historical landmarks & sites
· Isfahan:
According to the source we looked at at the beginning of the post, Isfahan is loaded with historical sites dating back to various ages.
The majority of people are familiar with works like as:
Naghsh-E-Jahan Square
Chehelston Palace
Aali Qapu
Minar Jonban
Other regions of Isfahan include the breathtaking hamlet of Abyaneh, located close to Kashan, and the town of Mashad Ardehal, home to the well-known mausoleum of the famous contemporary poet Sohrab Sepehri.
Do not, under any circumstances, skip the rose-picking ceremony in the cities of Ghamsar and Niasar if you happen to find yourself in Isfahan in May during the rose-picking season. It is an event that is breathtaking in its beauty and charm.
· shiraz:
· The Nasir Al-Molk Mosque,
· Karimkhani Citadel,
· Maharloo Lake,
· Shahcheragh
These four historical and truistical are among Shiraz's most popular tourist destinations and shouldn't be missed if you visit the city.
Shiraz is home to a wide variety of sights and sounds that are not to be missed.
Other places of interest in this city include the Vakil Bazaar, the Zinat al-Muluk House, the Jahan Nama Garden, Hafezieh, the Saadi Tomb, the Afifabad Garden, Sarai Moshir, the Quran Gate, Shapoori Mansion, and Narenjestan Ghavam.
One of the natural attractions of Shiraz is that the city's spring is a picture-perfect tourist paradise.
This is one of the city's natural attractions.
· Accommodations available in the city of Isfahan & Shiraz
· Isfahan:
You can stay in beautiful and fashionable hotels in Isfahan, or you may choose to stay in inexpensive guesthouses instead, depending on how much your trip to Isfahan will cost.
Additionally, you can rent a property for the length of your trip. You can stay in a hotel in Kashan; however,
I recommend staying in one of the traditional guesthouses in the city.
These places have an ambiance that is more representative of Iran.
On the desert road from Kashan to Natanz and Marnjab, one must consider the possibility of staying in lovely accommodations such as an inn, which can make for an unforgettable experience.
· shiraz:
The Chamran Hotel and the Homa Hotel are excellent choices for lodging if you are looking for a somewhere to stay that is fashionable, sophisticated, and luxurious.
Other hotels in Shiraz, such as the Persepolis Hotel, Tourism Hotel, Jam Jam, Eram, Arg, Shayan, and Roudaki, are three-star establishments that are immaculate, fashionable, and offer more affordable rates.
The Niayesh Hotel is an excellent choice for lodging if you have your heart set on experiencing a classic, old-fashioned hotel.
· The most delectable aspect of the journey to Isfahan & Shiraz
· Isfahan:
Isfahan is home to many cutting-edge dining establishments; yet, it would be a shame to pass up the opportunity to dine at one of the city's many historic and well-known eateries and forego the chance to sample Isfahan's renowned regional cuisine.
The Haj Mirza well in the plaza of the Naghsh Jahan must be remembered. You can eat delicious biriyani, doogh, and goosh fil at this historic restaurant, among other dishes.
· shiraz:
The most well-known meal to come out of Shiraz is the Shirazi cabbage pilaf, which can be found on the menus of the vast majority of restaurants in this city.
However, if you want to experience the authentic flavor of cabbage pilaf, you should not pass up the opportunity to dine at the Sufi restaurant.
The Sharzeh Restaurant
the Haft Khan Restaurant,
the Shater Abbas Restaurant
the Shandiz Restaurant
the Brentin Restaurant
the Bagh Raz Restaurant
and the Lotus Restaurant
are some of Shiraz's most well-known and frequented dining establishments.
Other local specialties such as:
pilaf sugar
plum onions
lari kebab with pork and chicken
vegetable soup
vegetable soup
and cardamom soup
are some of the most excellent and healthiest cuisines you may have while in Shiraz.
The last word,
Isfahan or Shiraz? That is the issue that occupies the minds of most visitors and travelers visiting Iran.
Isfahan and Shiraz are two of the most popular tourist destinations in Iran, and throughout this post, we compared and contrasted the two cities to provide you with an answer to this question.
Our goal was to familiarize you with the many characteristics that distinguish these two towns from one another.
You can make a better-informed decision between them: Isfahan or Shiraz, now that you have more information about each of them.
We hope that you find the information presented here helpful and that you can make decisions that allow you to have a positive experience during your vacation.
If you go to one of these cities, please tell us about your experiences so we can share them with other people visiting this website.